High quality fixed dimmable LED CCT fire rated downlights. These have a front-facing CCT easy switch enabling you to quickly change between 3000K, 4000K and 6000K and have been fire rated to 30, 60 and 90 minutes.
Featured Products
Our range of downlights includes GU10 as well as integrated LED.
Inspiration & Advice
Downlights Buying Guide
We look at the most important considerations to take into account when choosing LED downlights.
Read Downlights Guide

Technical Advice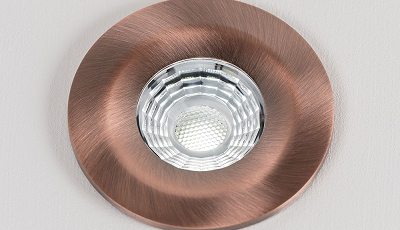 Why Choose Fire Rated LED Downlights?
Choosing the right downlights can be a bit of a daunting task, so before deciding, it's best to know what fire rated downlights are, why to use them and where to use them.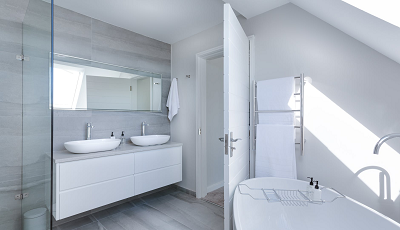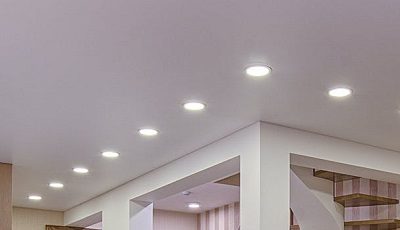 What Are High CRI Downlights?
We explore using high CRI downlights in your home, what to look for when purchasing them and the benefits they can bring to your interiors.
Downlights
Our LED downlights come in a variety of styles and finishes to suit various room types and decors. All our fire-rated downlights have a front-facing CCT easy switch enabling you to quickly change between 3000K, 4000K, and 6000K. Moreover, they have all been fire-rated to 30, 60, and 90 minutes.
Whether you are looking for kitchen downlights, recessed downlights, or a specific fitting or finish, we have you covered.
We have a range of fixed, tiltable, square, and high CRI LED downlights. You can also browse our downlights by IP rating and we have a wide range of IP65 downlights and IP44 downlights.
We understand that it's important to get the right finish to match the rest of your accessories and furnishings. Our LED downlights are available in a range of finishes including chrome, brass, gold, copper, bronze, and white.
Unsure about where to start? You can find out more in our guide which covers what makes a good downlight and what to look for when choosing them. We also explore the pros and cons of GU10 and integrated LED downlights as each come with their own set of advantages.
Browse our online store to discover our wide range of high-quality downlights.
Downlights FAQs
How do I change the colour temperature of my fixed downlights?
Our fixed downlights can be changed from 3k and 4k to 6k. To change the colour temperature, remove the bezel, underneath there is a little black switch that you can use to switch between the colour temperature settings.
Can downlights go in my wet room or outside?
There are four zones in a bathroom; 0,1, 2 and the outside zone. Each zone dictates how well protected a light fitting will be against moisture, this is backed up by its IP rating. Fixed downlights which are IP65 rated can be placed in zones 1 and...
Are your products compatible with the US wiring?
USA operates at 100-110 volts, the UK operates from 230-250 volts, cable capacity like pendant lights and wall lights are compatible with US wiring. However, you will need to ensure that the bulb you use in the fitting is compatible. Downlights are...
Can downlights be covered in insulation?
All downlights should have an air void around them when using insulation. The amount of space that should be left around the downlight depends on the type of bulb being used, as different bulbs run at different temperatures. Your electrician will be able to advise you on this.
Are your tiltable downlights on a pivot ball or rotate either way on a bar?
Our downlights do not pivot all the way around, they operate on a bar and tilt left to right, not 360°.
I cannot fit my bulb into my GU10 downlight?
Insert the bulb into the downlight pre-installation, push the wires from the top down into the light to make the light fitting hang out of the unit, you will then be able to easily fit the bulb into place.
Can the unit or driver of the downlight be covered in insulation?
No, the downlight and driver will need clearing behind it. 10-40mm or more space is needed around the downlight to allow heat to escape.
Can I change the colour temperature of my tiltable downlights?
No, the colour temperature can only be changed on our fixed downlights.
Can dimmable bulbs be used with Lieber GU10 downlights?
Yes, they can. We have a few GU10 dimmable bulbs available on Elesi that can be used with the Lieber downlights.
Can you change the bulbs on Soho downlights?
No, they are a fixed unit and come with a fitted bulb. They do come with a 3 year guarantee should the bulb fail during this time.
View All