Polished Chrome Sockets & Switches
Polished chrome sockets and switches have a universal appeal and although generally considered to suit modern/contemporary styles, also complement period styles such as art deco.
Featured Products
See our featured polished chrome switches and sockets below
Inspiration & Advice
Polished Chrome Sockets & Switches Buying Guide
Exploring the differences between polished chrome and brushed chrome finishes for modern interior aesthetics.
Read Guide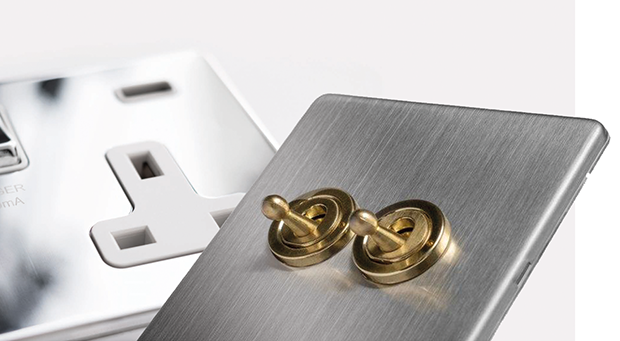 Polished Chrome Sockets & Switches
Discover the captivating allure of polished chrome sockets and switches, seamlessly combining modern functionality with aesthetic brilliance. From polished chrome electrical outlets to the sleek elegance of shiny chrome switches and sockets, each piece stands as a testament to contemporary design excellence.
The sleekness continues with contemporary chrome wall plates, offering a refined touch that complements your décor while maintaining a cohesive look. Polished chrome toggle switches contribute not only to efficient lighting control but also to the overall ambiance of your space.
Enhance your lighting control further with chrome dimmer switches, allowing you to tailor your environment to your preferences. The allure of high-gloss chrome electrical fixtures introduces a sense of modern luxury, while reflective chrome wall switches bridge the gap between functionality and style.
Unveil the artistry of metallic chrome plug sockets, turning ordinary electrical outlets into eye-catching focal points. And with the addition of mirror chrome, your interior gains depth and sophistication, reflecting both light and design ingenuity.
Embrace the trend of chrome elegance and bring a touch of modern refinement into your home. These fixtures seamlessly combine form and function, making polished chrome sockets and switches a symbol of contemporary style that adds value and aesthetics to every corner of your living spaces.