Brushed Chrome vs Polished Chrome
What is the difference between polished chrome and brushed chrome sockets and switches and why does it matter?
Chrome plating, more commonly referred to as chrome, is a process in which a thin layer of chromium is electroplated on to a metal object, forming a decorative and corrosive resistant finish. The plating process used to create both polished and brushed chrome finishes is initially identical. Polished chrome is then, as the name suggests, polished whereas brushed chrome is brushed, or more accurately it is abraised through finely scratching the surface. The finishes therefore both look and perform differently in day to day use and it is important to understand these differences as it may affect your enjoyment of your decorative switch and socket investment.
Polished Chrome Finish

Mirror like reflectiveness

Brushed Chrome Finish

Matt/Satin finish – low reflectiveness
What does Polished Chrome finish look like?
The finish produced is mirror like (highly reflective) and corrosion resistant, protecting the metal underneath from oxidisation or rust. This finish is often referred to as chrome or polished chrome, it is easy to clean, but not always easy to keep clean.
You will be familiar with polished chrome on vintage cars bumpers and many motor bike exhaust pipes.
In the home, polished chrome is frequently found in bathrooms, on taps and towel rails. That is why the polished chrome finish is a popular choice for shaving points and towel rail flex outlets for bath and washrooms. It is also popular in kitchens that have polished chrome appliances such as kettles and toasters.
Polished chrome finishes are striking and fit with most décor styles, from vintage/period and deco to modern and contemporary. It does not stain or tarnish easily, making it the perfect choice for the kitchen, bathroom or washroom. However, it is not always easy to keep clean as fingerprints and water marks build up quickly and need to be wiped away to maintain a flawless finish.
Polished chrome switches and sockets often come with a choice of either black or white insert, giving consumers extra choice concerning their décor matching and styling. Black inserts are often chosen for more modern and contemporary settings, with white inserts often being favoured for a more traditional or timeless look and feel.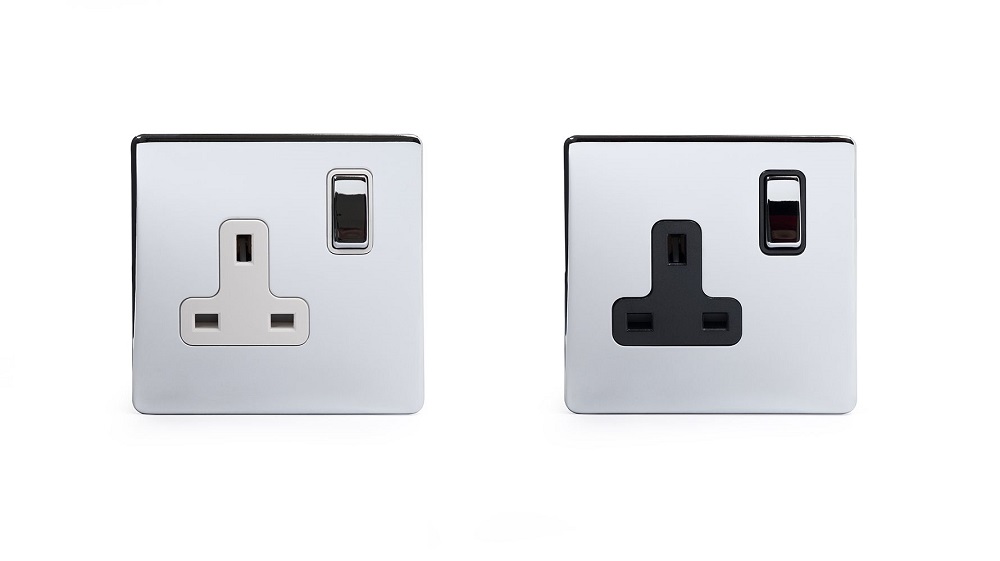 What Does a Brushed Chrome Finish Look Like?
A brushed chrome finish is achieved by finely scratching the surface of the chrome plate after plating. These fine scratches produce a satin/ matt effect which significantly reduces the reflectiveness of the surface.
This finish is easy on the eye and has the added benefit of obscuring fingerprints and marks. This makes the brushed chrome finish a good choice for busy households and commercial premises with a lot of traffic and use. Brushed chrome has grown significantly in popularity in recent years and is now the most popular choice of finish for switches and sockets. Brushed Chrome switches and sockets work particularly well in modern and contemporary settings, though their subtle appearance compliments most décor styles and trends. They can be purchased with both black and white inserts, which changes the tone and appearance, giving extra choice to the end user. Black inserts are often preferred in modern and contemporary settings, with white inserts being chosen for more traditional or timeless appeal.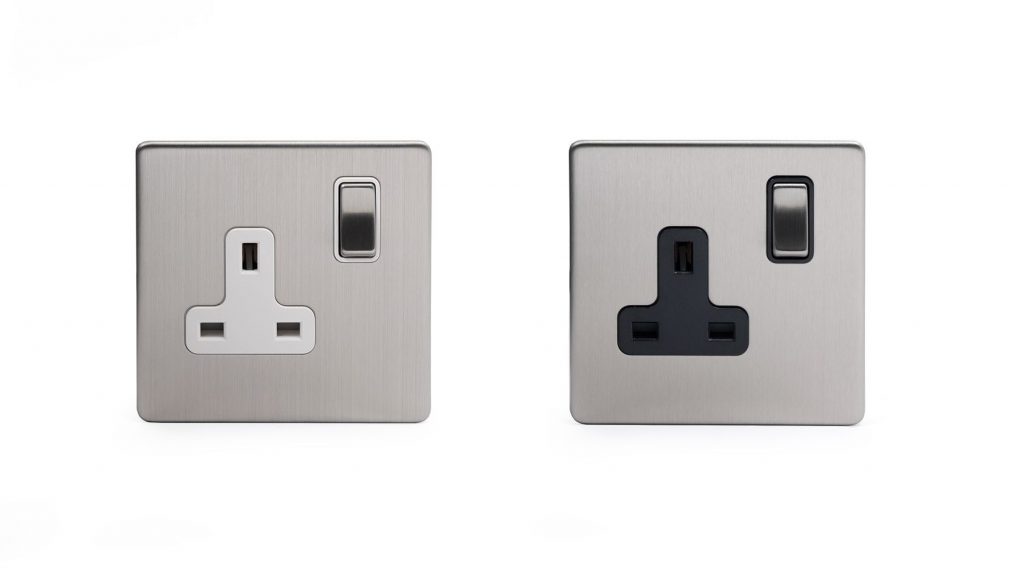 What is the difference between brushed chrome and satin steel sockets and switches?
There are many terms used in the switch and socket market to differentiate products, however for the most part there is very little if any discernible difference between finishes described as Brushed Chrome, Brushed Steel, Satin Chrome or Satin Steel etc. Indeed, they are generally stainless steel or chrome plated finishes which are then brushed to create a satin or matt finish which does not readily show fingerprints. The tone or huge of a finish may vary slightly depending on the original base colour, however we recently examined finishes across all major brands of switches and sockets that were described as Brushed Chrome, Brushed Steel, Satin Chrome or Satin Steel and there was no consistent pattern to the finish name and the tone/huge. If you are thinking of selecting switches and sockets of this type we would advise you purchase a sample first from a company that accepts returns.
What is the difference between Polished Chrome and Nickel?
Polished Chrome and Nickel have similar properties and finish. They are both highly reflective and have silver tones. However polished chrome is considered to be colder with a slightly bluer tone. Nickel is warmer with what is considered a slightly yellower/white tone which can give the appearance of ageing. Both are a popular choice for bathrooms and wet-rooms as they do not corrode and match well with polished chrome of nickel fittings such as taps and towel rails.
[related_products]