Matt Black Sockets & Switches
The commanding appearance and flawless finish of Matt Black sockets and switches strikes a masculine tone and is a popular choice for eclectic, hip and contemporary stylised homes.
Featured Products
See some of our top selling matt black sockets and switches below.
Inspiration & Advice
Matt Black Sockets & Switches Buying Guide
Comprehensive guide to matt black sockets and switches for interiors.
Read Guide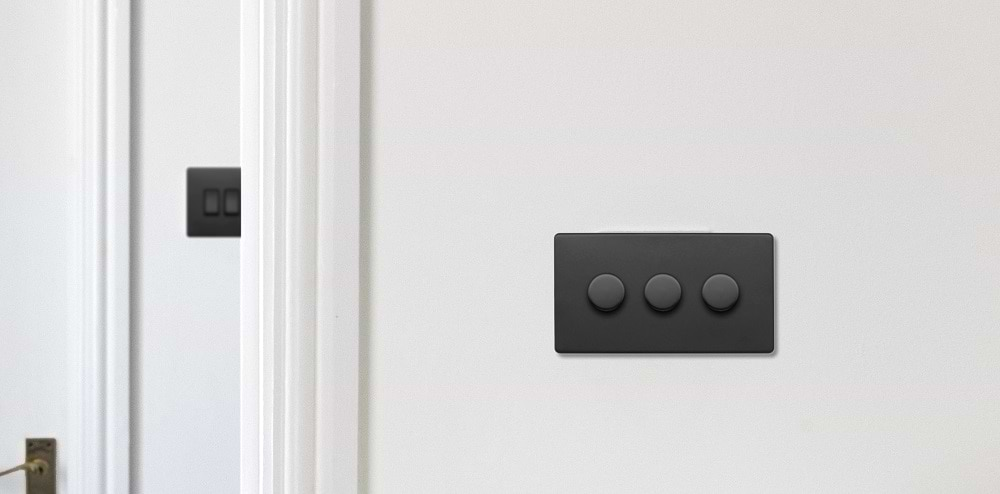 Matt Black Sockets & Switches
Elevate your interior design with the striking allure of matt black metal sockets and switches. These cutting-edge electrical components effortlessly blend style and functionality, making them a must-have for modern spaces.
From matt black electrical outlets to the sleek elegance of matt black sockets and switches, these fixtures create a captivating focal point. The seamless integration of modern black metal switches and sockets complements contemporary aesthetics while delivering exceptional performance.
Introduce a touch of refinement with contemporary black light switches, creating a visual statement that resonates with modern sensibilities. The clean lines of minimalist black metal sockets evoke a sense of sleek sophistication, showcasing a commitment to both form and utility.
Add a chic touch with black switch plates, offering a polished finish that enhances the cohesive look of your decor. The innovation continues with black metal power outlets, seamlessly blending into your space while ensuring convenient access to power.
Discover the artistry of designer black metal switches that elevate functionality into an aesthetic experience. Complete your control setup with matt black toggle switches, and for ambiance enthusiasts, matt black dimmer switches offer both lighting control and mood enhancement.
Experience the trendsetting appeal of matt black metal sockets and switches as they redefine the concept of electrical fixtures. With their stylish yet practical design, these components cater to the needs of contemporary living, enhancing the overall aesthetics of your home.