Beautifully designed, edison style vintage light bulbs with the energy-efficiency and long-life benefits of LED. These hand-blown bulbs are full of character. Suitable for either dimmable or non-dimmable applications.
Inspiration & Advice
Light Bulb Shape Guide
There are lots of different light bulb shapes to pick from. We cover the eight most common ones in this guide.
Read Light Bulb Shape Guide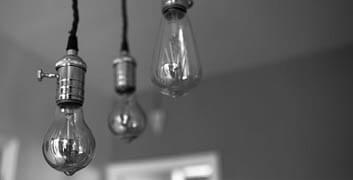 Style & Advice
Longevity of LED's
There's never been a better time to make that switch to LED lighting. We look at the life expectancy and the longevity of an LED bulb over time along with the cost savings.
Large Bulbs
Our beautifully designed large LED light bulbs boast a combination of efficiency and style. All our large light bulbs provide long life, unique, great-looking designs, and also come at a great price.
In addition to our innovative light bulb designs, you can choose from various filament designs. These bulbs give you the traditional beauty of filament bulbs combined with the A+ energy efficiency of LED lighting.
Our large Edison bulbs complement any light fitting where the bulb is the centerpiece. In addition, you can use the bulbs in both dimmable and non-dimmable lighting applications. They offer sufficient light, like standard bulbs, but at a much lower energy cost. Therefore, you do not need to increase the number of bulbs in your room when switching over to our large light bulbs.
You can choose between our 4W and 6W LED large screw bulb options as well as many popular styles including ER180, PS42, PS160, and G80. Each has a few unique features you may want to check.
We have a variety of design options from which you can choose your ideal large bayonet bulb. Read our light bulb buying guide to better understand what to look for when picking a bulb.
Enjoy top-quality performance, warm retro-style bulb designs, and great value for money. Choose one today to transform the lighting in your home.