Light Bulb Shape Guide
When choosing a light bulb, it's important that you choose the right shape for the location and situation. Light bulb shapes provide a slightly different spread of light, come in different sizes, and complement different fittings and positions.
A lot of choosing the perfect bulb comes down to personal preference, as each bulb shape can add a different style and feel to a room. There are lots of different shapes to pick from, we cover the eight most common ones in this guide.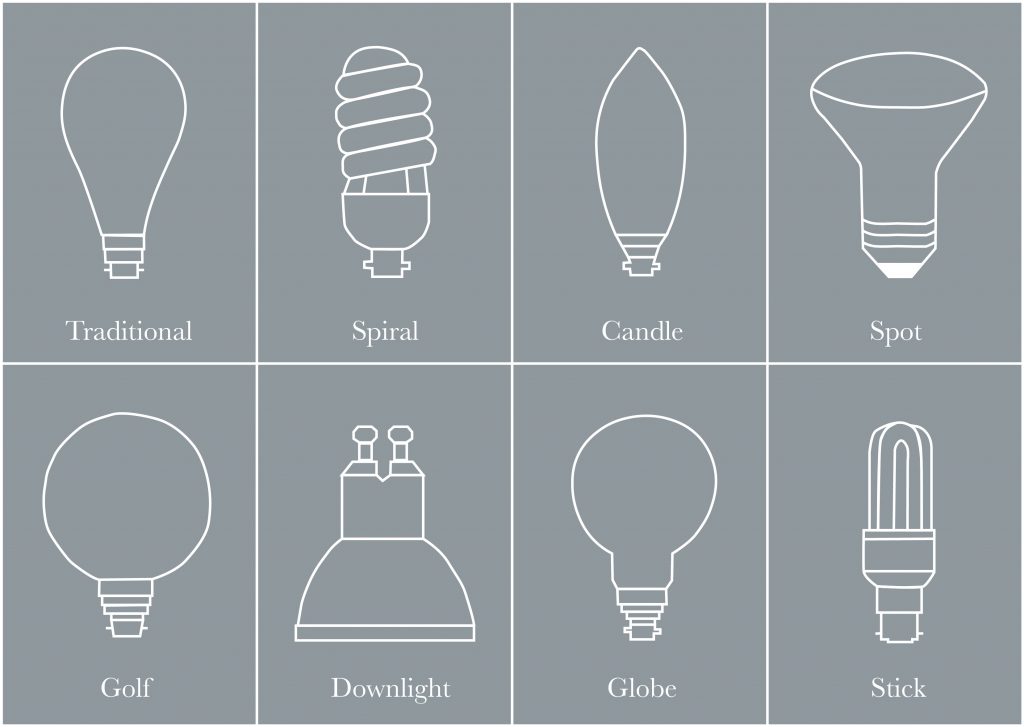 Light Bulb Shapes
Traditional / GLS
This is the most common shape of bulb that you'll find in a typical home in the UK. This one is the shape that most people think of when they hear the word light bulb. The traditional GLS bulb hasn't changed greatly since the first model was created by Thomas edison in 1879.
The GLS light bulb is usually suitable for a number of ceiling light fittings, desk lamps, and floor lamps, but is often too big for chandeliers and smaller fittings.
Spiral
These bulbs were designed to replace the old incandescent GLS bulbs as an energy-saving alternative, but the GLS has since returned with LED technology, meaning the spiral bulb could soon become less popular. Whilst these have a quirkiness, they tend to look less attractive than traditional incandescent and traditional-style LED bulbs.
Candle
This is a beautifully decorative light bulb shape, most suited to chandeliers and smaller spaces. They are often used in clusters, i.e. on multiple light fittings, rather than as one single bulb.
Reflector / Spot
Coated with a reflecting material, these softly direct light with little shadow and are commonly used in spotlights.
Golf Ball / G45
These are small, round bulbs that look a lot like a golf ball sitting on a tee. Much like candle bulbs, they are commonly used in multiples, however, they are also commonly found in desk lamps and bedside lamps as the bulb takes up very little space.
Downlight
These bulbs sit almost flush on the ceiling. Commonly used in kitchens, where good lighting is key, but ceiling height may be too low for pendants.
Globe
These are slightly bigger than GLS bulbs and, as you'd expect from the name, round. They can be decorative and can suit both pendant lights and floor lamps, where the bulb is on show.
Stick
Much like the spiral bulb, these were brought in to replace many GLS bulbs, as an energy-saving alternative. However, since the development of LED technology, they are a less attractive alternative to most energy-efficient LED bulbs.
Now that you know more about each of the different light bulb shapes, browse our wide range of high-quality LED light bulbs. Alternatively, our LED lighting guide will give you the simple steps for choosing your perfect bulb.
Candle Bulb Vs Round Bulb?
Round bulbs tend to be globe bulbs, and although there are multiple sizes of globe bulbs available, G45 golfball bulbs tend to be used in similar scenarios as candle bulbs. Both are smaller than standard GLS bulbs so suit light fittings with multiple bulbs, but candles tend to better suit chandeliers.
[related_products]