Also known as ST64 bulbs, our beautiful LED teardrop bulbs bring the classic vintage look with the long-life and energy efficiency benefits of LED, meaning you no longer need to compromise efficiency for looks! Suitable for either dimmable or non-dimmable applications.
Inspiration & Advice
Light Bulb Shape Guide
There are lots of different light bulb shapes to pick from. We cover the eight most common ones in this guide.
Read Light Bulb Shape Guide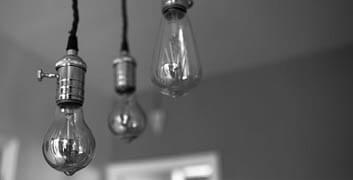 Style & Advice
Longevity of LED's
There's never been a better time to make that switch to LED lighting. We look at the life expectancy and the longevity of an LED bulb over time along with the cost savings.
Teardrop Bulbs
Teardrop light bulbs, sometimes called ST64 bulbs, offer elegant vintage glamour with the benefits of modern LED bulbs. Our gorgeous collection of LED teardrop bulbs offers long life and high levels of energy efficiency.
This means that you don't have to compromise between efficiency and style! Furthermore, you can use them on dimmable and non-dimmable applications.
Inspired by Victorian and Edwardian incandescent bulbs, filament LEDs look delicate and pretty. Their filament LEDs are entirely made of glass. Inside, tiny LEDs are fitted around a cylinder giving the appearance of a traditional filament.
If you are looking for vintage looks then our teardrop light bulbs with their unique spiral filaments are a perfect choice. You can also browse by shape, price, and manufacturer, making it easy to find an ST64 bulb that suits your space.
However, if you are unsure about where to start then read our LED light bulb buying guide for more guidance and ideas.
Browse our online store to discover our wide range of beautifully designed teardrop light bulbs.