Which LED Downlights are the Best?
Downlight Buying Guide
Here at Elesi, we stock various types of downlights from a number of different brands. We are often asked what are the best LED downlights? This is a difficult question to answer, as it really depends on the location, what is needed, the style of the room, and the budget.
Generally, much like any other product type you get what you pay for when it comes to downlights. Many cheaper downlights don't have the features that the more expensive ones have. So, in terms of features and benefits, the best downlights are those that cost more. However, if you don't require those features, then the best option may be cheaper.

Which downlight features do I need?
Look out for features such as fire rated (and for how long they have been tested); IP44 or IP65 rated; LED; Colour temperature switch, and the ability to dim. Here is a quick overview of some of the more common features.
Fire Rated Downlights
If you are putting downlights in a room that has a floor above it, you will need fire-rated downlights. This is not only a building regulations requirement; it is essential for the safe keeping of the occupants above you.

What are fire rated downlights?
Fire-rated downlights have been tested and proven to impede the spread of fire upwards, thus offering protection to the upper levels of the property. As downlights are often installed by cutting a hole in the ceiling, the structure (fire barrier) is compromised. Therefore, the hole needs to be filled with a downlight that is fire rated to maintain a level of protection against fire.
Fire-rated downlights are tested in different ceiling structures with different thicknesses of plasterboard and spans of joist. This is to ensure they inhibit the spread of fire for a given period of time, enabling occupants to evacuate. Furthermore, fire-rated downlights are rated to 30, 60, and 90 minutes and the rating matches the structure it was tested in.
Whilst it may seem obvious to conclude that a 90-minute fire-rated downlight offers the best protection, these lights were tested in the most solid structures with double thicknesses of plasterboard. Indeed, 30-minute fire rated downlights have been tested in the most challenging structures with wide joists and a single layer of plasterboard.
If in doubt, look for downlights which have passed all 3 ratings of 30, 60, and 90 minutes.
Fire-rated downlights, particularly those that have passed all three ratings are more expensive. This is because they are often better made, include intumescent properties, and have undergone expensive rigorous trials and tests.
Recommended Blog: What are fire-rated downlights?
IP Rated Downlights
The IP rating of downlights relates to their ability to function in areas where they may be subject to intrusion. This could relate to dust, or more commonly in the home, water or moisture. If you use non-IP rated downlights in the bathroom, they're likely to stop working fairly quickly and can be unsafe.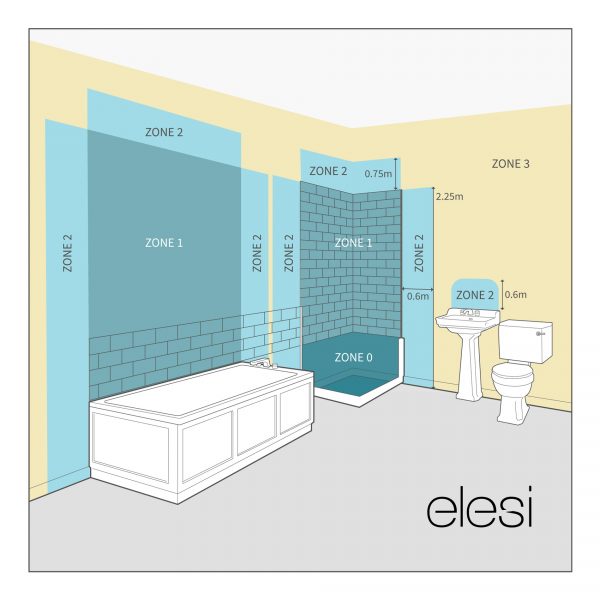 Bathrooms are split into different zones when it comes to IP ratings. Zone 0 is inside the bath or the shower itself. Any fitting here must be low voltage (max 12v) and be rated at least IP67 (100% protected against solid objects like dust and sand. It will have also been tested to work for at least 30 minutes while under 15cm to 1m of water).
Zone 1 is the area above the shower or bath, to a height of 2.25m from the floor. Here the minimum rating required is IP65. Zone 2 is the area stretching 0.6m outside of the perimeter of the bath and to a height of 2.25m from the floor. An IP rating of at least IP44 is required here. It is also good to consider the area around a sink. Any area within 60cm of a tap is also considered zone 2.
Outside zones are anywhere outside zones 0,1 and 2 and where no water jet is likely to be used. There are no specific IP requirements for this zone, however, it is recommended that you consider a light with an IP rating of at least 20. In addition, if you are likely to use water jets for cleaning, you should use a fitting with a minimum of IP65.
You will pay more for IP rated downlights, but they will generally be of better construction and quality.
Recommended Blog: What Are IP Rated Downlights?
LED Downlights

Many downlights do not come with bulbs included. These are commonly GU10 fitting downlights, so the bulbs could be LED if you choose, but they could also be incandescent. There are many benefits of choosing LED bulbs to go in your downlights, including energy efficiency and longevity.
It is now common to purchase LED downlights that do not have replaceable bulbs. This is because LED has such a long lifespan, that you won't need to change the bulbs often at all. Therefore, the downlights can be built to be robust. These days, with the price of LED dropping, whether you choose LED downlights, or choose downlights that require bulbs to be added in, LED really is the best option around.
You will pay more for longer guarantees but the products are constructed to a higher standard. Look for options with long guarantees to build confidence in the downlight.
Colour Temperature of Downlight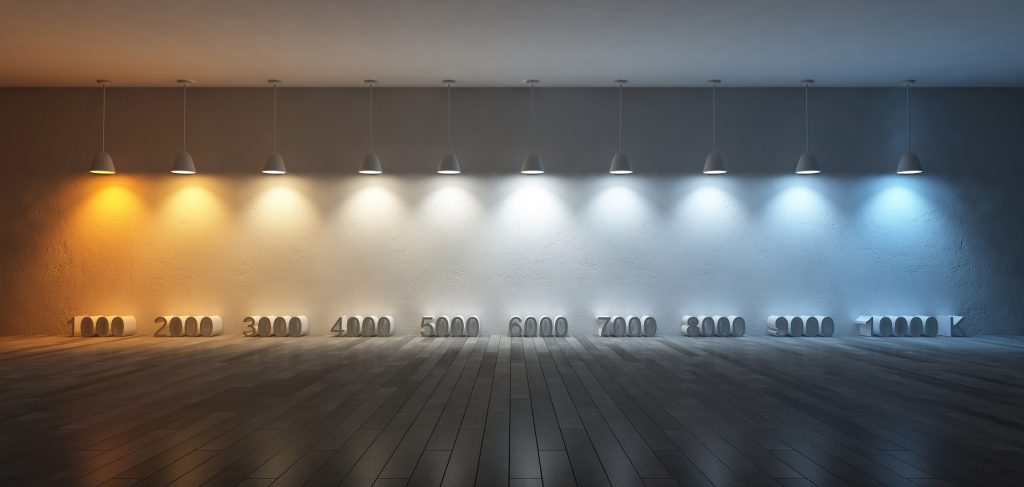 The colour temperature of a bulb describes the appearance of its light. White is the common colour of light that most bulbs emit, but that white light can range from warm (a more orangey colour) to cool (a bluey white colour).
When choosing your downlights, it is worth considering what colour temperature you would like in that location. Certain situations require a cooler, clearer light, however, this doesn't create a particularly relaxing atmosphere.
One neat option is a CCT switch. This is a switch that lets you flick between different colour temperatures, so you can change the light, depending on the location.
Downlights with a CCT colour temperature changing switch tend to cost more, however, you will be able to adjust the colour temperature to suit your room, quickly and easily.
Recommended Blog: What is colour temperature?
Dim to Warm Downlights
With colour temperature in mind, dim to warm downlights offer a whole new aspect to your lighting design, being especially effective in work areas such as kitchens.
With the ability to change the colour temperature of the lighting from cool to warm white, these dim to warm downlights can be controlled via a dimmer knob. This means that you can easily change the function or ambience of your room with ease. You can shop our range of Dim to Warm Downlights here.
CRI of Downlights
Have you ever wondered why colours can look different in different lights? Maybe you bought a sofa in a showroom, but it looked slightly different at home. Or maybe you changed the light bulbs in your room and the walls look a slightly different colour as a result.
This is due to the Colour Rendering Index (CRI) of the lighting. The Colour Rendering Index, also known as CRI is the measurement of how colours look under a light source when compared with sunlight. A CRI of 100 perfectly matches sunlight.
Recommended Blog: What is the Colour Rendering Index?

The UK lighting supply market is dominated by low CRI LED downlight products. In 2020 it was estimated that over 90% of domestic downlights available on the UK market provided a CRI of less than 82. If choosing LED downlights, be sure to look for high CRI downlights- at least 95. Read more about High CRI downlights here.
Browse our selection of High CRI downlights
Dimmable Downlights
If you are choosing LED downlights, one thing you need to be mindful of is that not all LEDs are dimmable, and not all dimmers work with LED. Dimmable downlights offer the benefit of changing the room for ambience, when moving from task lighting. This can create a more intimate and relaxing feeling.
If you wish to dim your LED downlights, you're going to need to buy dimmable LED downlights, and you'll need to use a trailing edge dimmer. Dimmable LEDs can be more expensive than non-dimmable LEDs, and trailing edge dimmers are more expensive than leading edge. Consequently, if you wish to take advantage of the benefits of LED, and require a dimmable light, you will need to spend a little more.
Smart Downlights
Smart technology is fast becoming a part of everyday life in the home, and smart downlights are now a reality. These downlights contain the technology to be able to control almost any aspect of your lighting from brightness to colour temperature, RGB lighting, schedule timers, and even room specific ambience.
All of this is available through an app, or through compatible hubs such as Google Home or Amazon Alexa, which means you can control these lights with your voice. Take a look at our Smart Downlight finishes here.
Downlight Style and Appearance
Not all downlights come with different finishes. If you have a kitchen with antique brass sockets and switches, and you add white downlights, it could ruin the overall look. Therefore, it is worth matching the downlight finish to the overall décor style of the room.
Serviceable Vs Non-Serviceable Downlights
Over time, it's likely that your downlight parts may need replacing. There are some downlights that are serviceable, and others that aren't.
If you are using GU10 downlights, you can replace the bulb after its useful live. If the bulb breaks, you don't need to worry as you can just replace them. You can also switch to different colour temperatures, or to dimmable from non-dimmable if needed.
Alternatively, sealed / non-serviceable downlights often have better construction and better heat dissipation than you can get with a bulb, so they tend to last longer. Choosing an integrated LED downlight with a bigger separate driver gives more room for components and better heat protection (as the driver is positioned away from the head of the light source).
The driver on GU10 bulbs is on the bulb itself, and as the bulb unit is very small, it gets hot, which degrades the light and circuitry.
Whilst sealed units (integrated LED downlights) originally received a bad reputation, as in the early days of LED the failure rate was high, resulting in a need to change and replace units often, these are now far more reliable and often perform much better for far longer than other downlights. They tend to have 40,000-50,000 hours- a 7-10 years of average use.
The driver tends to break first on integrated LED downlights, and better models come with a separate driver, which can easily be replaced.
Choosing the best LED downlights for you
If all of the above factors are important to you, then you may need to spend a little more, however, if you don't require Fire Rated, IP rated downlights, or you don't want LED downlights, then you may be able to find downlights without those features, that fit your budget.
The first step for choosing your downlights is deciding which of the above features you require. If you are placing them in a bathroom, then the correct IP rating is essential, as is fire rating if placing downlights in a room with a floor above it. Once you know what you need, and any extra features you want, then you can choose the best downlights for your project.
[related_products is_auto_added="1"]