Lighting for Contemporary Kitchens
Choosing the right lighting for a contemporary kitchen can be a bit of a challenge. Whilst there are many lighting principals and ideas that are common across all styles, there are many choices that are dependent on the décor and type of kitchen. A contemporary kitchen may suit different types of lighting to a more traditional kitchen. 
If you're wondering what sort of lighting to use in a contemporary kitchen, this depends on whether you have an open plan kitchen/living area or separate kitchen. There are many areas in a kitchen to be lit as well as types of lighting required. It tends to be better to use bright lights for preparing food, dimmer lighting for evening meals and background lighting when your kitchen is not in use.
Colour Temperature and Brightness
Areas that are used for food preparation need brighter, clear light, known as task lighting. This should have a fairly high colour temperature (at least 4000k) so that you can easily see the colour of the food, as well as anything else you are working on. This lighting should be close to daylight.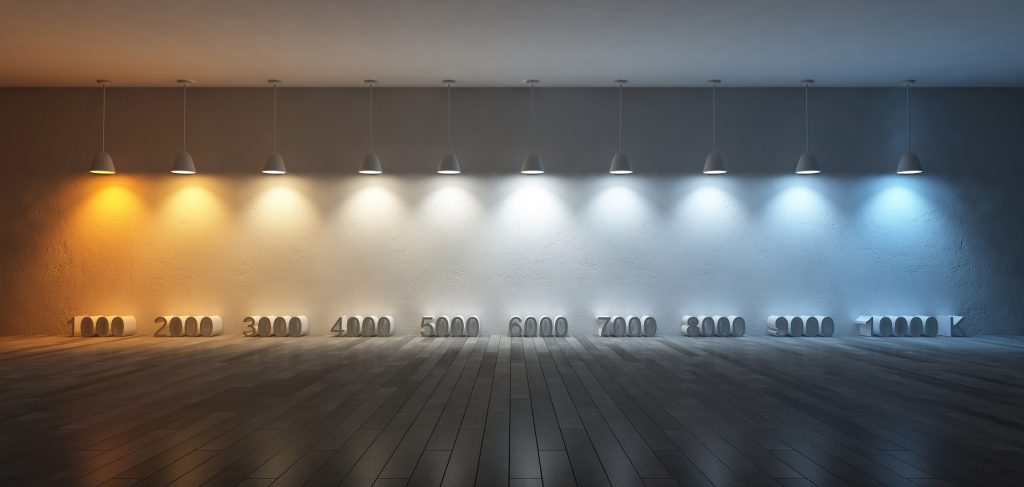 Kitchen Light Fittings
In a contemporary kitchen the style ideas can vary widely according to taste but primarily consist of modern light fittings such as downlights and LED strips. Although downlights appear very slick recessed in the ceiling, modern colours can bring an essence of brightness to a contemporary kitchen. Downlights can be found in various finishes including rose gold, black nickel and brushed chrome. These are just three examples of how to introduce a different look to the plain white plastic downlights. You can also add in a dimmable downlight so you can change the brightness of the light to match the mood required at the time.

With accessories becoming more widely available in rose gold and copper, you can easily combine finishes throughout the kitchen.
Also, by introducing two or three coloured pendant lights over a breakfast bar or island can instantly add a pop of colour and removing the edges from what can become a clinical environment.
Breakfast Bar Lighting Options
The breakfast bar area may not need the same sort of lighting as the worktops, as much like the dining room area, this is generally used for eating; however try not to choose a low colour temperature here, as you will want to see the food that you are eating. The context is key too: if you are likely to eat breakfast only here, you may want a higher colour temperature, like 4000k, so the light can play its part in waking you up. However if you are likely to want to eat evening meals here, you may be better off choosing something in the region of 3000k-3500k so that it creates more of a relaxing tone.
When choosing breakfast bar pendants or pendant lights to go over your kitchen diner table, the style is key. If you have a mainly white contemporary kitchen then white, simplistic style pendant lights will fit in well. If you have a lot of rose gold accessories in your kitchen, then choose pendants with a clean shape and a rose gold finish.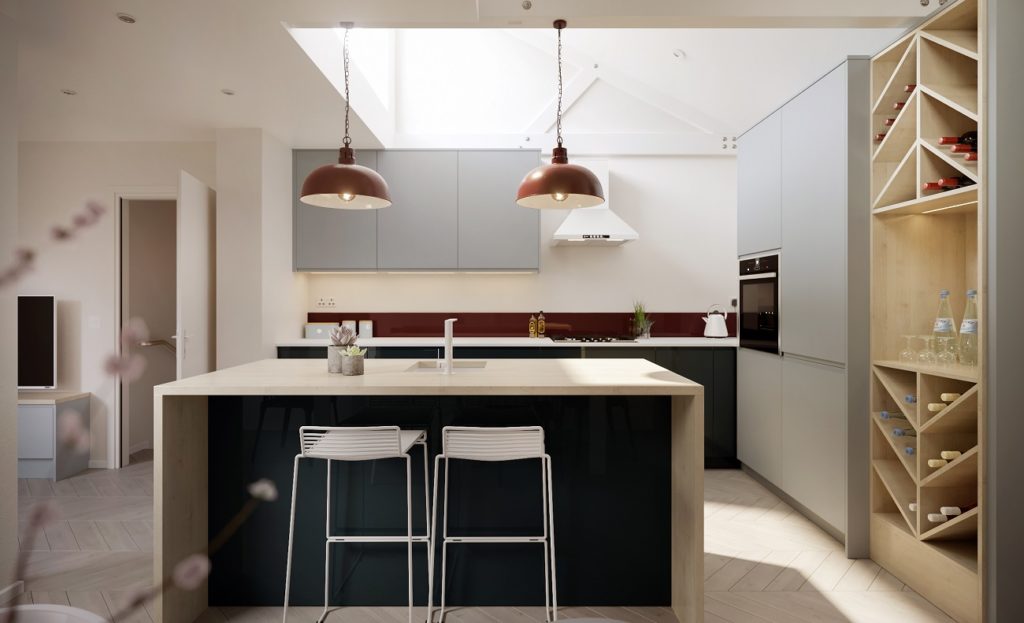 The main consideration to take into account is the fact that the kitchen may require different types of lighting throughout. You won't need the same sort of colour temperature and style above a worktop as you will above an area that is designed for socialising.
See our range of downlights which are dimmable and fire rated; and our range of pendants to complete your kitchen.
[related_products is_auto_added="1"]