What kind of light switch do I need?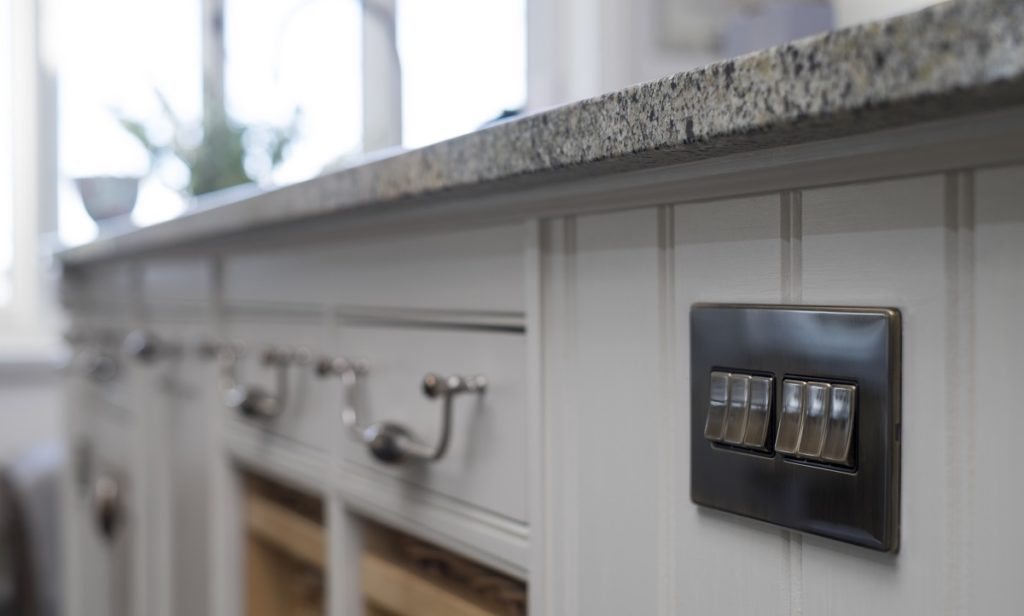 When completing a home renovation, you may find yourself in a situation in which you need to choose which switches to use in each room. If you are looking into lighting for the first time, you may find that there are plenty of switches out there on the market, but many of them will be unsuitable for your needs.
There are two main areas to think about; function and appearance. In this article we will cover both areas and will help direct you towards the light switch that you need.
Switch Function
Double Pole or Single Pole?
You may have seen double pole switches available to purchase, as well as single pole switches. Single pole switches can control just one circuit and a double pole switch can control two circuits. So, a double pole switch is almost like having two single pole switches, controlled by the same switch. Double pole switches are generally best for appliances, so if you are looking for a straightforward light switch, you can choose a single pole, which tends to be cheaper than double pole. Read more about the differences between single pole and double pole switches.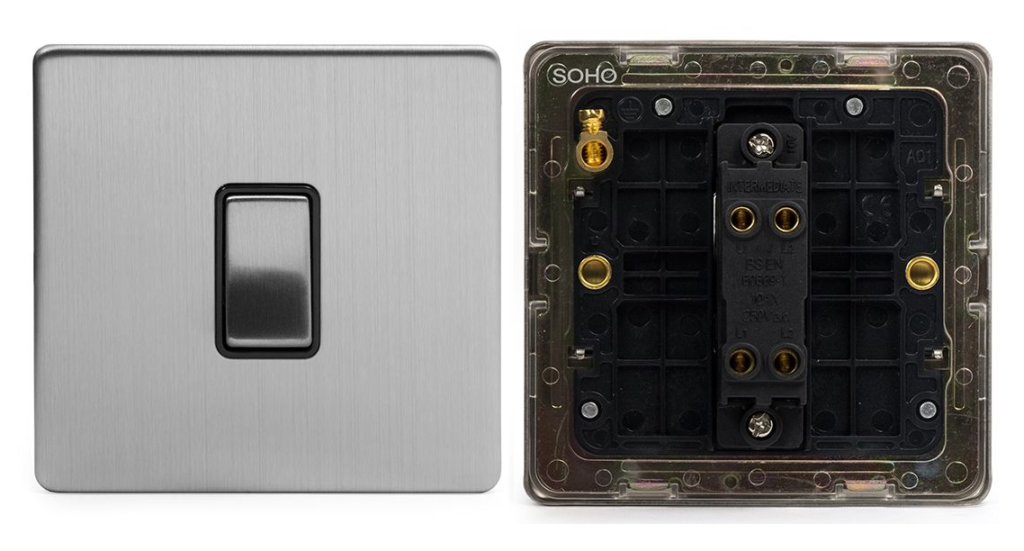 1-way, 2-way or Intermediate?
When you have one switch controlling one light, you can use a 1-way switch. When two switches control that light, you need a 2-way. If you have three switches controlling the light, for example one on the ground floor, at the bottom of the stairs, one on a landing half way up the stairs and another at the top of the stairs, the middle one (half way up the stairs) will need to be an intermediate switch. Read more about intermediate switches.
Grid Switches
If you need to have different switch types on one plate, for example a 2-way switch alongside an intermediate switch, or a 2-way rocker switch on the same plate as a dimmer switch, grid switches can be the best solution. These switches allow you to create your switch using plates, frames and modules. This is the best way to get bespoke switches that match the appearance of the other sockets and switches in your home, without spending too much. Read more about grid switches.
Dimmer Switches
Simply put, if you want to be able to dim your lights, you'll need a dimmer switch. Dimming gives you the option of setting the mood and lighting level, to suit the time and situation. The main options are trailing edge and leading edge. If you wish to dim LED bulbs, then it is best to use a trailing edge dimmer. These are more expensive than leading edge, but a good trailing edge dimmer will also help with the longevity of the bulb.
Retractive switches
Retractive switches have become more common recently due to smart homes. These are switches that retract, so you can press, and it goes back to its original position. These tend to be more expensive than regular 1-way or 2-way switches.
Appearance:
Toggle or Rocker switch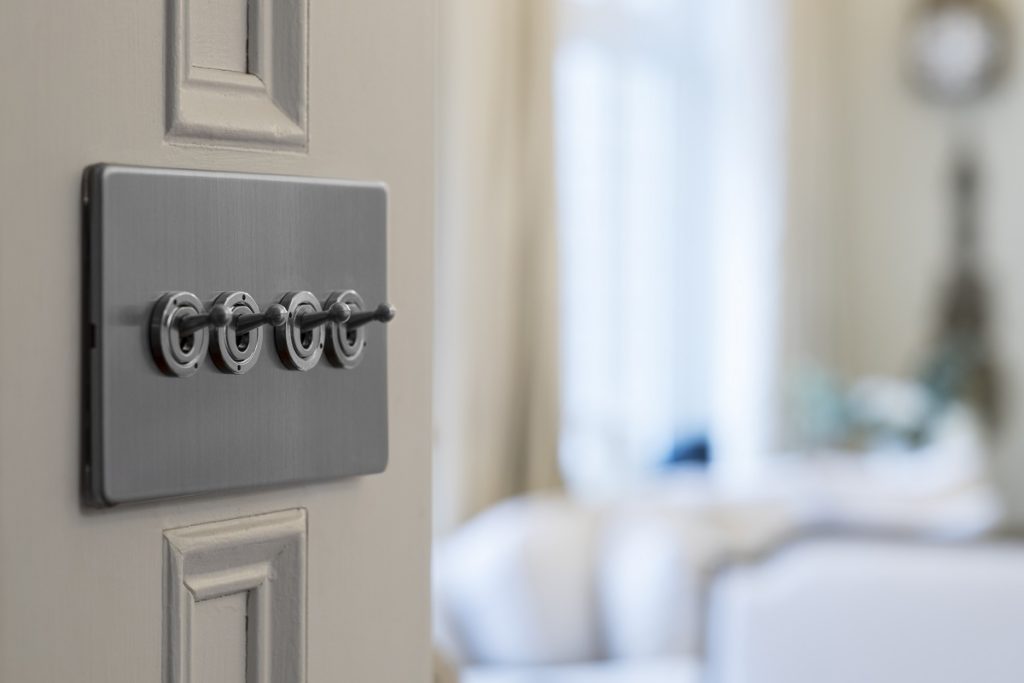 Both rocker switches and toggle switches operate in the same way, as they both have a regular on/off function. Toggle switches do, however tend to offer a slightly louder "click" sound when switched on or off, compared to rocker switches. The main difference between the two is the appearance. Read about the differences between toggle switches and rocker switches.
Finish
There are plenty of different finishes on the market including brushed chrome, polished chrome, satin chrome, brushed steel, satin steel, brushed brass, polished brass, antique brass, black nickel, rose gold, copper, bronze, white metal, matt black and more. Each finish suits a different style, for example white is a clean look, black nickel is very contemporary, antique brass is classic or period, brushed chrome and polished chrome are very versatile, however polished chrome looks great in an art deco setting.
The other key factor to consider is the other colours in the room. Look at the door handles, appliances, cupboard handles and other metallic or plastic parts, and try to get them all matching. This is often overlooked by many people, but can really make a room look so much better. Read more about matching switches and sockets to interior design styles.
What is a DP Switch?

DP switches (double pole switches) are switches that can control two circuits, as opposed to single pole switches (SP switches) that can control one circuit. You can find out more in our blog: Single Pole Vs Double Pole Switches.

Flat plate or raised sockets & Switches?
Flat plates are light switches and sockets that have less depth on the plate. These tend to look more slick than raised plate sockets and switches, however it is not always possible to install them (the wall needs to be completely flat). Some manufacturers charge more for flat plate too.