Grid Switches Explained
Have you ever wanted to create a bespoke switch on one plate? Maybe a 12 gang switch, with 4 intermediate switches and 8 2 way rocker switches; or a 2 gang switch with one intermediate and one retractive. Grid switches are the simplest and perhaps most cost effective way to do this.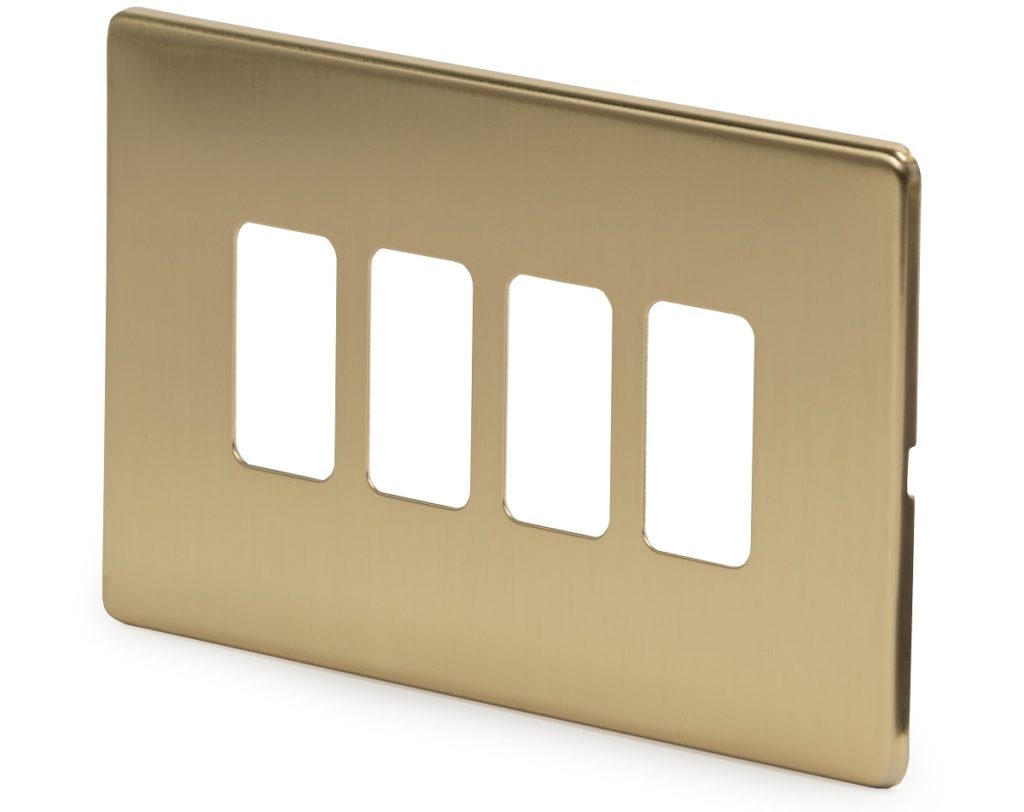 What Are Grid Switches?
Grid switches come in separate parts. You can order a grid plate, which looks like a regular light switch plate, but without anything behind it and no switches built in. These come with grid frames, which allow you to fit everything together. You can also choose from a selection of grid modules. These are simply single switch modules that pop into place on the grid plate to create your bespoke switch. This allows you to create unusual or non-standard combinations, without the expense of getting it custom made by a factory.
How Do Grid Switches Work?
As the wiring goes through the grid modules, and the frame holds the modules in place on the plates, there is no need for any screwing or unscrewing.
When Would You Use Grid Switches?
You can use grid switches whenever you need a switch that you can't easily get hold of. There's nothing more frustrating than finding a socket and switch finish and style that you like, and finding all but one or two of the switches that you need in that finish. Grid switches make it less likely for that to happen.
How To Choose The Right Grid Switches?
The first questions you need to ask yourself are:
What functions do we need?
What finish do we need?
When deciding which function you need, think about what exactly you need the switch to control. Do you need to control light switches? Do you need a switch that works with smart home technology? Is an appliance switch needed? First you need to decide on the function needed, and how many switches are needed. When choosing the finish, you may need to simply go with the same finish as the other sockets and switches in the room. If you are just at the beginning of the planning process, read our guide on Matching Switch and Socket Finishes to Interior Design Styles.
What Are Front Loading and Back Loading Grid Switches?
There are a couple of different options when it comes to adding the switch modules: front loading and back loading. To put together a grid switch, the grid frame (yolk) is connected to the wall in with the modules, and then the plate is attached to the front. If the modules are front loading, they can be pushed in from the front, once the frame is screwed or clipped in place. If they are rear loading, they need to be attached from behind, before the frame is screwed or clipped on.
Browse our selection of grid switch plates and grid switch modules.
FAQs
Can I have dimmer switches and rocker switches on the same plate?
Absolutely! We do a variety of combination plates to suit almost every need, from a 2 gang rocker and dimmer combo, right up to an 8 gang with four rockers and four dimmers. There are a multitude of different combinations, with different positions for the switches you require. Take a look at the grid plate range to find the most suitable option for your needs.
Can I get these options in the Fusion range?
Yes, we do all of the plates in the Fusion range, so that you can have a completely matching set of switches no matter the size.
How can I tell which switch does what on such a large plate?
We do a customised engraving service for all metal switches, sockets, and grid plates. Check out our enquiry form to get a quote.
[related_products is_auto_added="1"]