Rose Gold Kitchen Lighting Ideas
This beautiful, soft tone is perfect for lighting. Rose gold has had a revival in recent years and has become one of the most popular colours for many household items including kettles, pans, electrical appliances and more.
Rose gold looks similar to copper, but has a slightly more mellow appearance, this is due to the content of the metal. Rose gold is an alloy, meaning it is a mixture of other metals, whereas copper is a native metal- a metal that is found in its metallic form in nature. The exact composition values tend to vary, but it is made up of copper, yellow gold and silver. Read more about the differences between rose gold and copper.
The golden-pinkish colour of rose gold tends to work well with soft colours, so rose gold lighting can really complement these sorts of tones. For a modern look, this can work well with black furniture, and can suit both contemporary and a more classic décor style in the kitchen.
There are many options for kitchen lighting, as there are many different uses for the room. Rather than being simply a space for food preparation, it has become more of a social place. You may need task lighting in the form of under-cabinet LED strips, to make it easier to see what you are doing on the worktops; or you may need a more mellow light above the dining area. It's important however that you have multiple light sources, to reduce shadows. Here are some of our rose gold kitchen lighting ideas.

Rose Gold Downlights
This is a simple way of subtly injecting rose gold into the kitchen space. Downlights tend not to be overpowering in appearance as they don't take a lot of space. They also give you the option of having multiple light sources easily and are perfect for lower ceilings.
You may want to mix it up a little bit by having downlights and pendant lights in different parts of the kitchen. Downlights can also work well for task lighting in the right environment.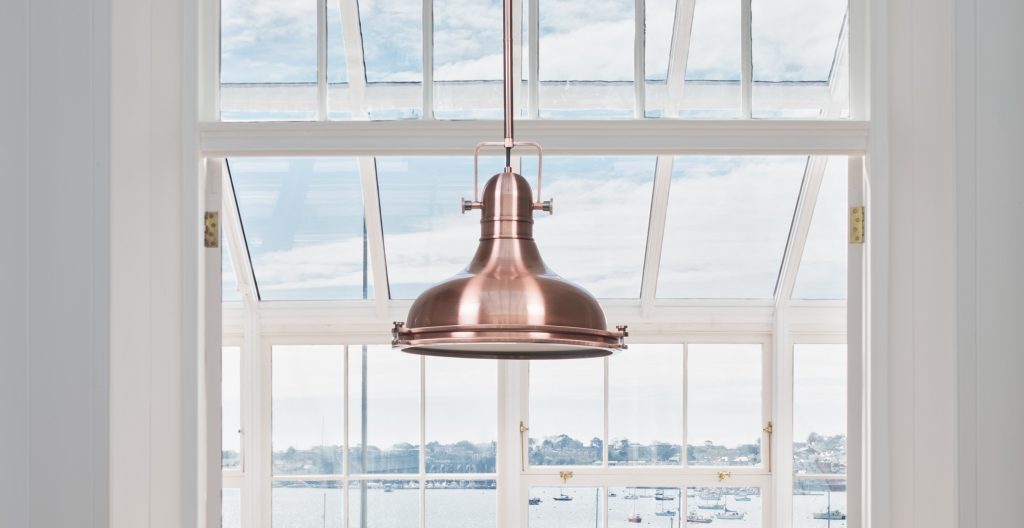 Nautical Pendant Lights
This beautifully designed ship style pendant light from Soho Lighting has a stunning rose gold finish that gives off a lovely tone when light reflects off its outer layer. Perfect for a nautical themed kitchen or a more classic / traditional style décor, this pendant is large in size at H 335mm X W 350mm X D 350mm.
Rose Gold Pendants Above a Breakfast Bar

For a lovely, relaxed feel in kitchens with slightly higher ceilings, a row of beautiful rose gold pendant lights is perfect. A wonderful centrepiece, the mellow colour instantly creates a laid back style. Try either a rose gold step pendant light or a rose gold dome pendant to add style and beauty to your kitchen.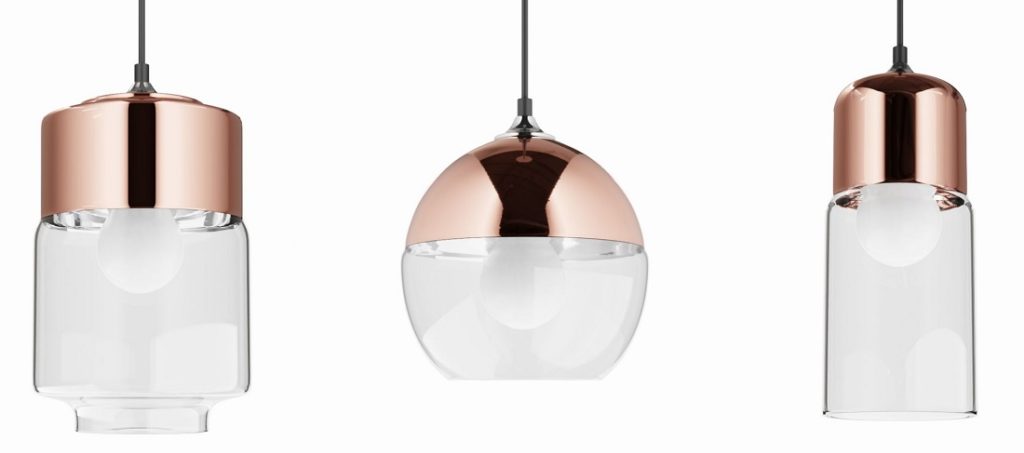 Glass and Rose Gold
These Cambridge glass and rose gold pendant lights work well both on their own or in a row or cluster. Try them over a kitchen island or a kitchen-diner table with a warmer colour temperature bulb (under 3000k) to provide ambience.
[related_products is_auto_added="1"]