Brushed Chrome Sockets & Switches: The Complete Guide
One of the more common metallic finishes around at the moment, brushed chrome is versatile, effortlessly fitting into any décor style. This is a popular finish for not only sockets and switches, but also downlights, door handles and kitchen accessories like kettles and toasters. If you are considering changing the electrical outlets in your home or business and are looking to use brushed chrome brushed chrome sockets & switches, this article will tell you everything you need to know before making the final decision.
What is brushed chrome?
Chrome is a silvery, reflective metal that is commonly used across a number of products including cars, motorbikes, home electrics and musical instruments, to name a few. It looks similar to nickel, but has a slightly blue shine, compared to the whitish, almost yellow appearance of nickel. When it comes to home electrical items like sockets and switches, and downlights, these finishes can both be used in the same way.
Chrome finishes can differ in a number of ways, but the most common options are brushed chrome, polished chrome and satin chrome. For a more detailed look at the differences between brushed and polished, see our article Brushed Chrome Vs Polished Chrome.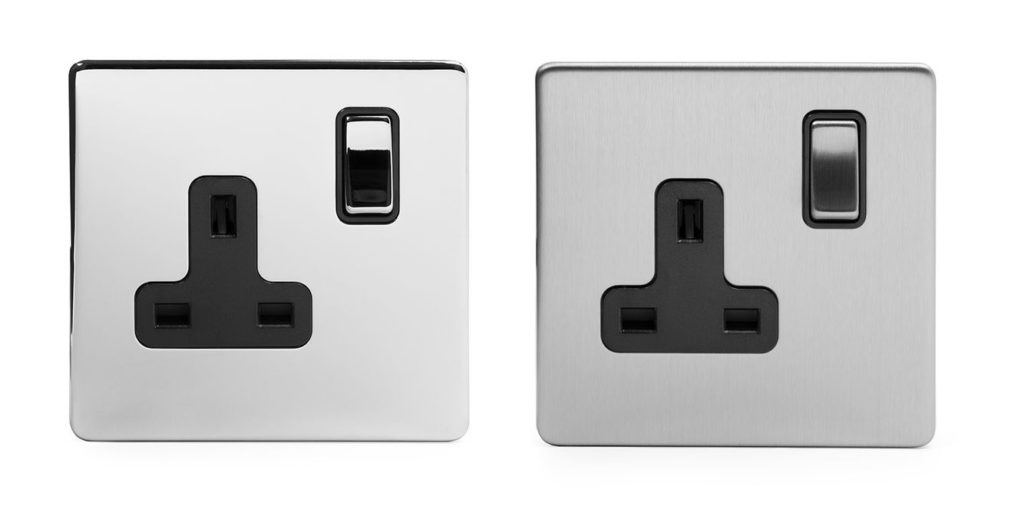 Polished chrome is exactly as expected, a polished, smooth finish of chrome that creates a mirror-like surface (in fact, polished chrome sockets and switches are occasionally known as mirror chrome sockets and switches). This is very similar to silver.
Satin chrome and brushed chrome are generally very similar, but brushed chrome always has the finish of brush lines across the product. Some satin chrome products have more of a matt appearance, but without the brush marks. Brushed chrome should look like a chrome finish, which has been brushed.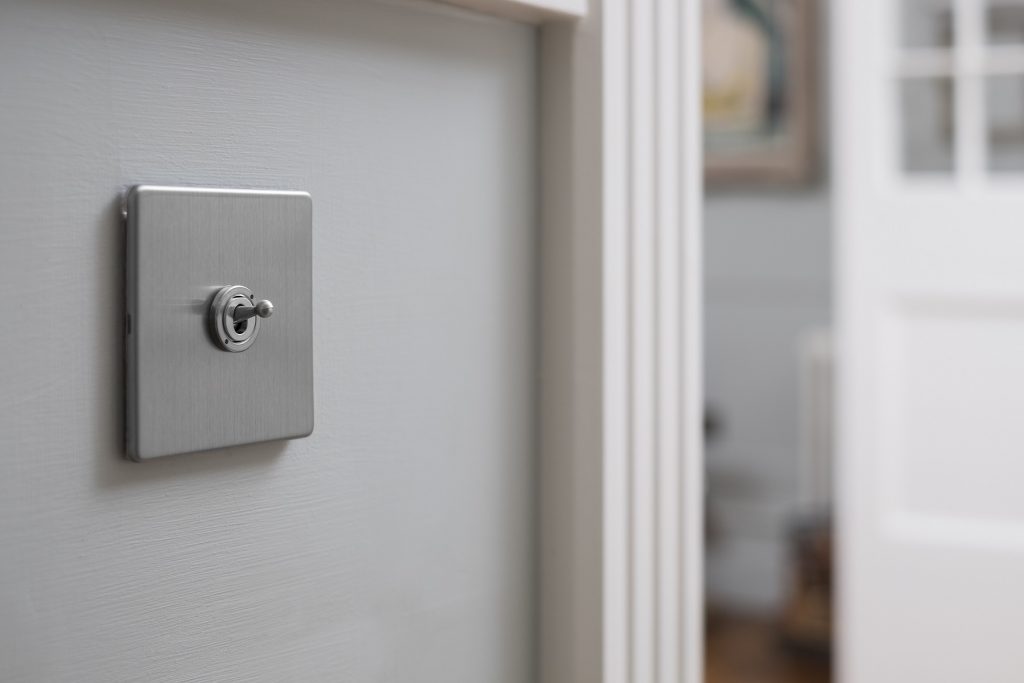 The Benefits of Brushed Chrome Sockets & Switches
There are plenty of reasons to choose brushed chrome over other finishes. Chrome's versatility has to be at the top of the list. If you decide to change your décor style in future, it's likely that chrome will still fit in. Something like antique brass may look out of place in a contemporary setting, and white plastic or black nickel could look strange in a traditional or classic style room, but chrome will look good alongside most styles.
One of the main negative points of polished chrome is that it can pick up fingerprints and blemishes very easily. This may not be so important for downlights or other fittings that aren't handled often, but for features that are touched every day like door handles and light switches, the finish can quickly look grubby so needs to be cleaned often. Brushed chrome covers up these marks.
What Colours Work Especially Well with Brushed Chrome Sockets and Switches?
The good news is that chrome generally works with most colours, so suits a lot of walls and furniture. There are, however, a few colours that work especially well. Black and white are the simples and safest choices, but also try chrome alongside navy blue or burgundy. Most blue shades do work well with brushed chrome sockets and switches, as does cream or an off-white paint.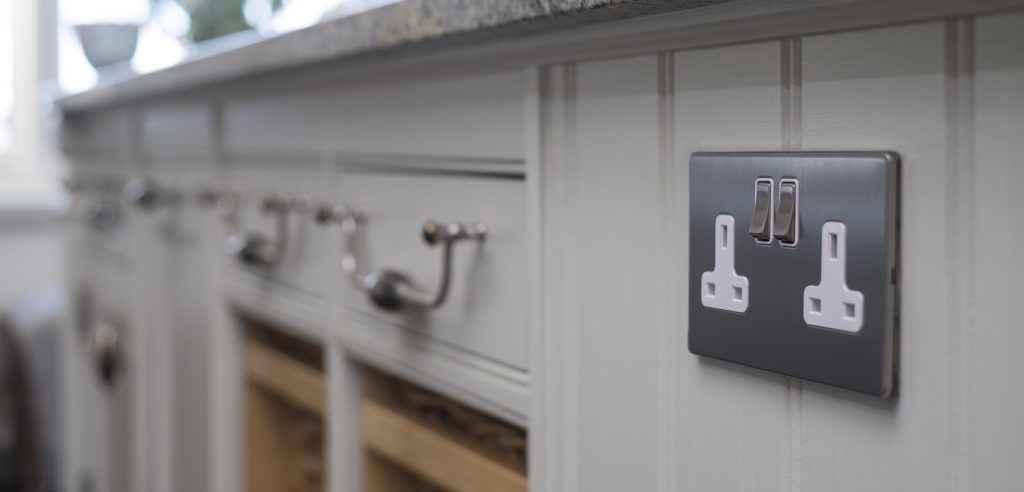 Choosing the Right Range
This is the most important pointer. There are plenty of different ranges of brushed chrome sockets and switches to choose from at various levels of price and quantity. This is a finish that is very quantity-sensitive, as cheap brushed chrome sockets and switches really do look cheap. Whether you choose to go for a cheaper style or choose to spend more for higher quality, the size of the range is key.
Decide what sort of sockets and switches you need based on the required functionality. Do you need simple rocker switches, or do you need to dim your bulbs? Do you need USB sockets or simply regular plus sockets? Do you have floor lamps that you want to be on the lighting circuit, so require 5amp sockets? You can read more in our article: Switch & Socket Function & Selection – What do I need? Once you know what you need, it is best to find a range that covers all of that. Most ranges differ slightly, so adding in sockets or switches from different brushed chrome ranges can look messy.
Some manufacturers have euro module options as well as grid switches. Grid switches provide a really attractive and easy way to add bespoke switches to your room. Euro modules offer more options like this but tend not to look quite as good as the sockets in the range.
Nickel Vs Chrome?
Both nickel and chrome have similar appearances, and can often look the same in photographs. Nickel tends to have a slightly more yellow and deeper appearance than chrome, and chrome (especially polished chrome) can have more of a blue tone to it.
Browse our selection of brushed chrome sockets and switches.
Browse Categories
[related_products]