Where to Position Sockets and Switches in the Bedroom
When choosing where to position sockets and switches in the bedroom, there are some important considerations to take into account to ensure you make the right decisions and are comfortable with your choices for the long-run. The key factors to give though to include:
Style, Finish and Function
The switch and socket finish and how it works with your interior décor is an important consideration. Are you looking to create a modern or contemporary look? Is your style more Traditional or Period, Scandi or Neutral? Sockets and light switches come in a vast array of different colours and styles, and our quick guides to these and aspects to think about are:
Style: The Style of Plate; Flat Plates are great for creating a crisp flush style and complement modern and contemporary finishes. A raised plate is more traditional and works well with period, Scandi and neutral home décor styles.
Finish: Think about how the finish of the socket will go with your décor style. An antique brass finish, for example will work well with a classic or period style of interior, but a black nickel finish may suit contemporary better.
Function: Think about what functionality is needed in your bedroom. This relates to the light switch type, the style of switch (dimmer, rocker or toggle) and the type of sockets needed. You may prefer to have a USB socket in certain places, for example.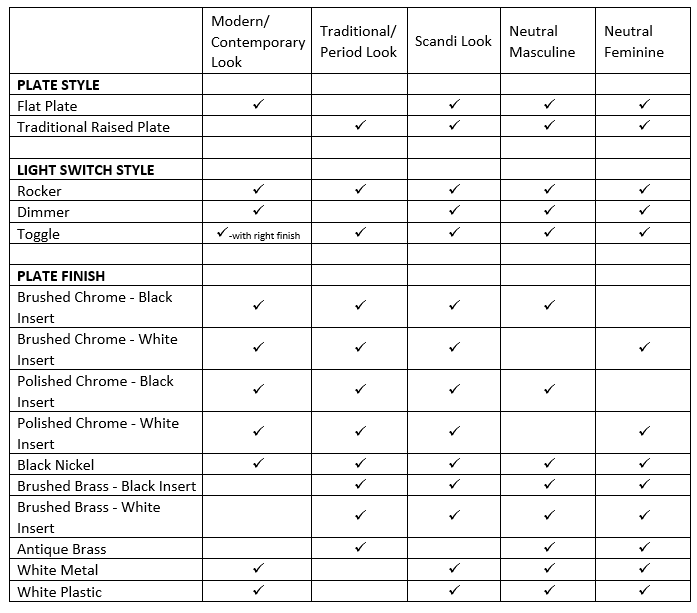 Positioning Sockets & Switches
Choosing where to position sockets and switches in the bedroom is something that is often overlooked and undervalued. Whilst it may seem fairly simple at the outset, it can be infuriating down the line if this is not thought through. The most important aspects to think about are:
Accessibility– is it easy to get to your light switches and sockets? Nobody wants to have to walk across a room to turn off a light, so do you need multiple lights switches? For sockets it is best to think about issues like running extensions leads to bedside lamps which can be unsightly; and don't forget the modern curse of having to charge your phone or electrical appliances: where do they need to be done? Do you want built in USBs in the sockets.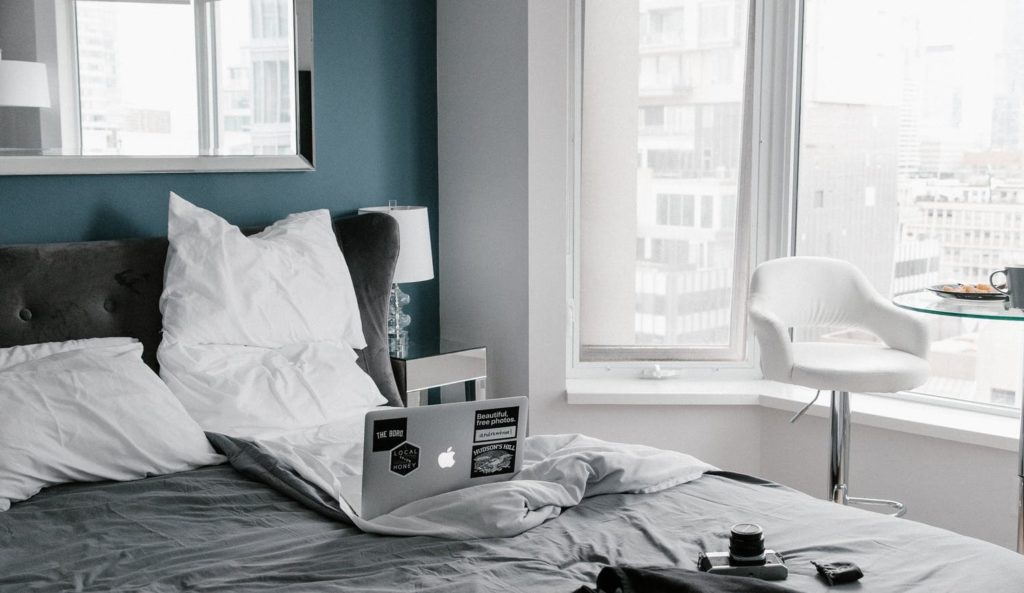 Visual Look – crowded plug sockets can look unsightly, so it is best if you can to position sockets where they are accessible, but not prominent, i.e. if you have a beside table with legs, then between the legs under the table is a good location. If the socket is above the bedside table then all of the power leads will be on show. If it is located behind a table which does not move easily, then access can be limited.
You may find that over time you decide to add furniture, table lamps, TVs and other electronics, and are unable to get the most out of them, or have to put up with leads running across the side of the room – go for additional sockets, one on each wall minimum (ideally two – then you future proof room layout) and either side of a bed.
Once you know the best place to position the bed, aim to position plug sockets on either side. You may want to use single or double sockets with USBs too, so you can charge devices like phones, tablets and e-book readers. Also sockets work well in the corners, where you are likely to position furniture or TVs. Consider a TV Co-axial socket in one corner – perhaps 2 locations if the want to move things around and plenty of sockets and data cable to future proof.
You may choose to have wall lights by the bed too. It would be worth putting the switche/s for these within a reachable distance from the bed. The issue that may arise is that if you decide to change the position of the bed, you may be stuck a little bit, so think carefully about the position you'd prefer. By having your sockets low down (as opposed to level with the bedside table) they won't look too out of place if you do decide to move all of the furniture to a new position.
[related_products]