What Colours Go With Red?
Red is a popular colour in interior design, commonly used as an accent colour. It adds vibrancy, a pop of the colour to the home and draws attention to the eye.
It's a striking colour that creates warmth and comfort. Red comes in so many different shades that it can easily be incorporated into your home.
What Colours Go With Red?
Red, Black & White
Black & white are a traditional and fail safe combination with red. Black provides a perfect backdrop for red, creating a striking and impactful look. If using black for your walls, you could incorporate red into a rug, furnishings and cushions. You might also want to intersperse some white and black cushions for a cohesive look.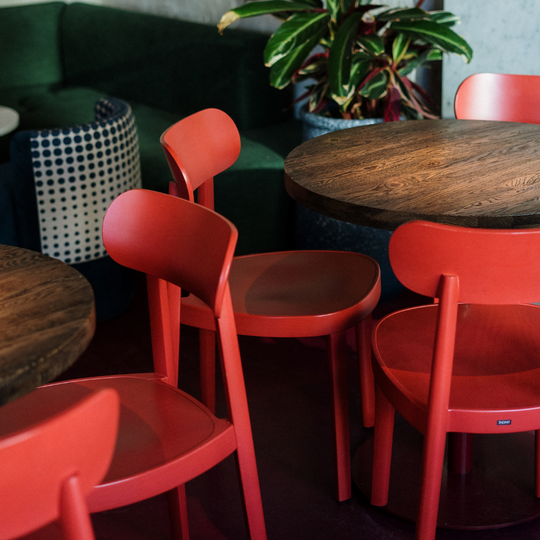 Red & Brown
Brown works perfectly with a warm colour like red. It's best to go for a muted red with a reddish brown for them to work in harmony together. Choose which one you want to be the more dominant colour in your space before introducing the other colour as an accent. The accent colour can easily be introduced through furnishings, decor or lighting.
Red & Grey
Red will go with almost any shade of grey. They are both sophisticated colours that compliment each other incredibly well when brought together.
Bring the red in through decorative elements. They're much easier to rearrange and move to different areas of the room if red is a colour that you might get bored of in a couple of years.
Red & Navy Blue
These two colours offer a vibrant and fun combination. You might want to bring brown into the equation to mute the vibrancy slightly, this trio of colours works incredibly well in an industrial setting. A textural wall of wood planks could be used with both red and blue furnishings for high visual impact.
Red & Mustard Yellow
Don't let images of tomato and mustard sauce bottles put you off these two colours as an interior trend. It's a surprising combination, but red and mustard yellow work really well together in suitable doses. As they are both warm hues, the result is a cool and collected look.
Red & Pink
This combination is much coveted in the fashion world and can be recreated in your interiors too. As they are part of the same colour family, red will go with virtually any shade of pink. If it's too daring for you, you might want to start with keeping your walls neutral and interspersing both red and pink throughout your interiors with the furnishings and decorative elements.
If you're looking to bring red into your interiors, the good news is that there are plenty of colours that it works well with. Do experiment with the shades of the colours to find your perfect match.