Modern Garden Lighting Ideas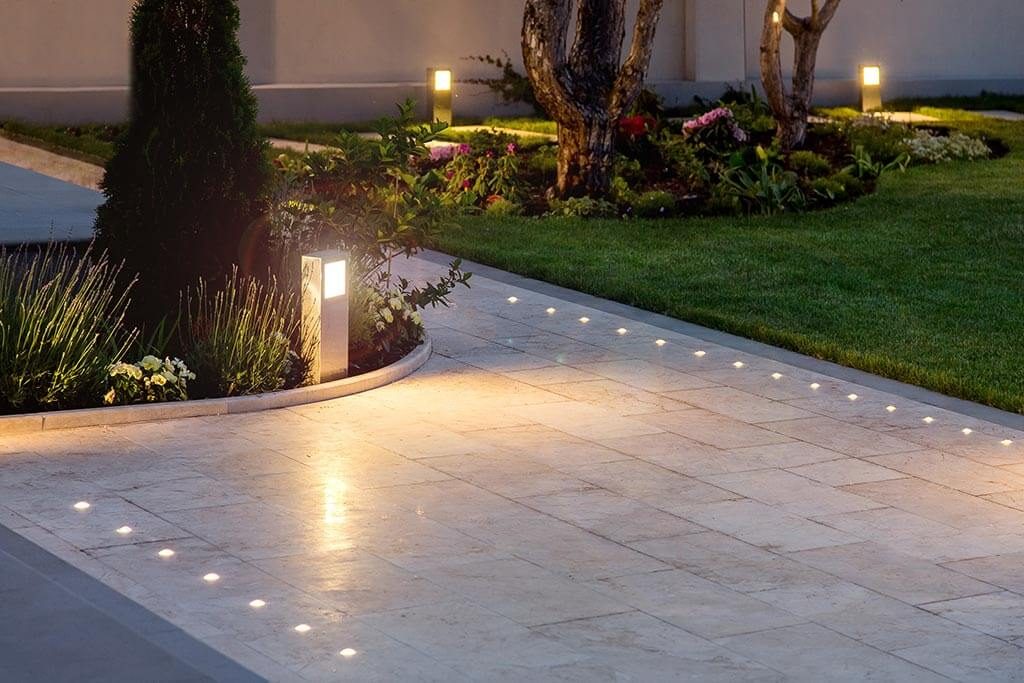 Your garden is an important part of your home and makes a big difference when it comes to quality of life. We look at some modern garden lighting ideas that can enhance your garden's appearance, functionality, and security.
Modern Outdoor Wall Lighting
Many outdoor wall lights consist of straight lines and simple colours. These could be metal up-down fixtures, which shine light upwards and downwards at the same time; wall lamps, usually with rectangular or square shapes; and linear wall mounted light fixtures.

Most modern outdoor wall lighting feature sleek materials and colours. Black is wall lights are a particular trend right now as well as brushed chrome and nickel. Cube and rectangular shapes are also very popular for outdoor wall lights.
One particular outdoor lighting idea which can look very modern, is a brick wall light, which sits flush in a wall, replacing one brick. This is a great approach if you prefer a more minimalist look and feel to your outdoor living area.
Modern Garden Lighting Ideas
Try lighting your garden with floor uplighters and wall lights to focus light on particular spaces. For example, floor lights can go on the edge of pathways, to make it easier to navigate, and wall lights, or even floor lights can be used to illuminate plants, much like how you may use lighting to highlight paintings or design features indoors.

Ceiling Lighting Ideas
If you have a summerhouse, or a covered area, ceiling lights can be a great, and rather discreet way of lighting the space. It's also where you can explore your creative side, by choosing lighting that would normally only be found in the home.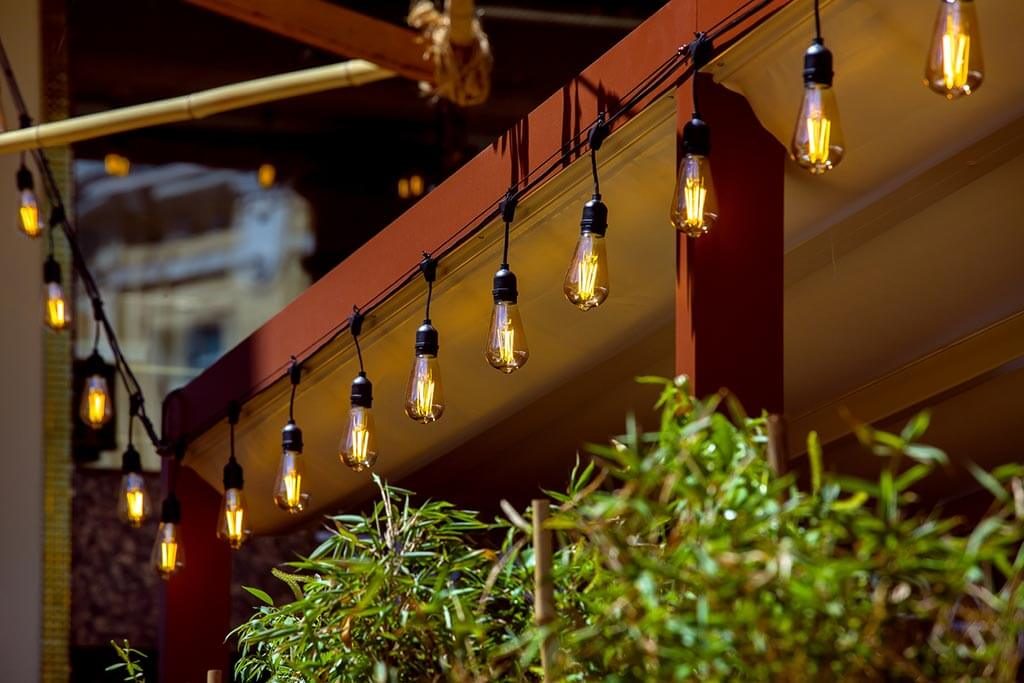 Dome or caged pendant lights are a great choice and you can experiment with a range of contemporary designs to get the perfect look. Edison style light bulbs can also work in a contemporary setting. Try string them together across covered areas or in your summer house to get a wonderfully warm and atmospheric look.

How To Choose Colour Temperature
If you are looking to use lighting to improve your home security, then your lights will need to be very bright. You'll want to choose a high colour temperature, ideally between 5000K- 6000K.

For ambient lighting, however, a bright daylight bulb isn't going to help with creating a nice atmosphere and feel. Try something at 4000K or lower. You can also consider mixing colour temperatures to create a more picturesque view.

You can even try mixing colours, with some blue or green lights highlighting certain areas of the outside space. Find out more about colour temperature in our guide: What is Colour Temperature?

We hope these modern garden lighting ideas have inspired you. As you can see, modern and contemporary lighting can totally transform your garden or outside living space. Shop our collection of outdoor wall lights today to discover more.