What is Antique Brass Finish
One of our most popular finishes, antique brass, also known as aged brass has a beautifully warm look that tends to suit period properties, but can also add a classic twist to a modern décor. Often used on features such as door handles and mirror frames, it can really add to a room when used on lighting, sockets and switches.
Antique brass can be aged using either raw brass or brass plating (which is when plating is put over another metal). The finish is created treating the brass so it appears aged. Typically it has a rich brown tone, with a slightly golden undertone. The aged finish tends not to shine as much as polished brass and tends to hide polishes and blemishes so much better. Compared to brushed brass or satin brass, antique brass has less of a golden appearance.
Browse our antique brass sockets & switches
Which colours go well with antique brass
This is a period style finish, so bright, neon colours will look out of place. Go for simple blacks and whites, or dark, deep colours. Aged brass can look great against classic white tiles, for example in a kitchen or bathroom.
For a luxurious appearance, pair antique brass sockets and switches with rich materials such as marble, leather and suede, however be sure to create a space that looks cosy too, with soft textures and rugs to avoid a look that appears too luxurious for relaxation.
The beauty of antique brass sockets and switches is that scatterings of brass can give your room a subtle elegance. This, along with brass cupboard handles in a kitchen can sprinkle the colour throughout your home without being overbearing.
Don't go cheap
One important thing to consider when looking to add antique brass to your home is that this is a luxurious finish in appearance, so cheap looking lighting or sockets and switches in a poor antique brass finish can look terrible.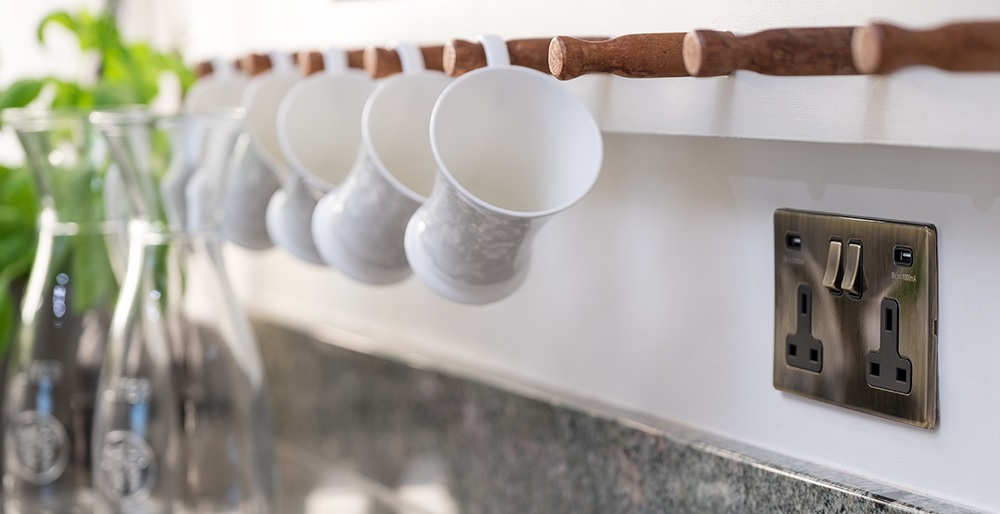 No matter whether you choose antique brass taps, mirror frames, door handles, sockets & switches or lighting, it is best to go for robust, well made products rather than poorly manufactured products, in order to for you to get the most out of this beautiful finish.
[related_products is_auto_added="1"]