Contemporary Living Room Ideas On A Budget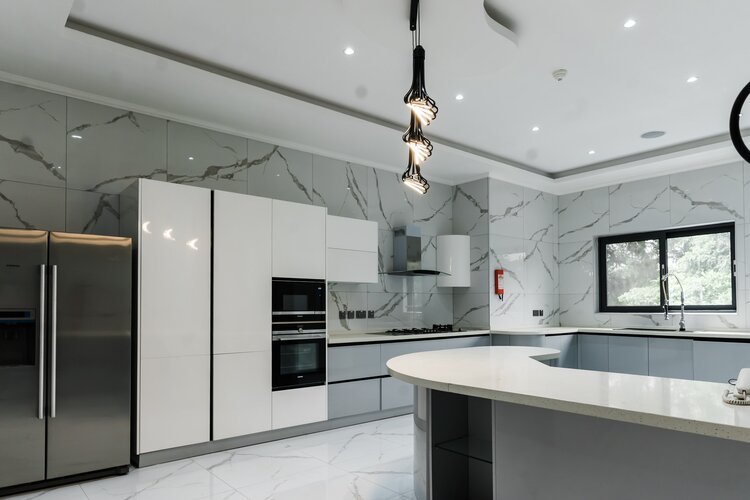 A contemporary living space is characterised by simplicity, clean lines and use of texture. The uncluttered yet homely design remains a popular decor choice for homes.
Whether you're looking to freshen up your existing home or are completely renovating a property, every little saving along the way helps! We explore contemporary living room ideas on a budget.

Clean Lines
Crisp and clean lines feature heavily throughout a contemporary home, providing cohesive structure to the space. Use sculptures, furniture, lighting and decorative accessories to run these clean lines throughout the home.
They don't just need to be clean cut lines, opt for curvaceous lines to soften the overall look too. You could use a curved kitchen island, or a curvaceous sofa set to provide diversity and command attention throughout the space. You don't need to break the bank to achieve this. See what items you already have available and pick out some key decorative pieces that provide those clean, structural lines.
Contemporary Furniture
No contemporary living room is complete without the furniture. When fitting out a room it's always best to start with the furniture which is the biggest asset, and focal point of a room.
One of the characteristic features of contemporary furniture is that the legs of sofas and armchairs are almost always exposed. Tapered, angled wooden legs are preferred over traditional turned ones on castor feet or those hidden under a skirt.
The fabric, material of the furniture is also an important consideration. Marble remains a popular feature in contemporary furniture thanks to those smooth, and ultra clean lines. Whilst colour shouldn't be shyed away from, neutral, muted tones are favoured throughout contemporary design. Furniture can be a big expense. So, do look at antique fairs, charity shops and Facebook marketplace to pick up a specific piece for less.
For a more affordable contemporary refresh, why not change the existing wooden knobs on your cabinets and pieces of furniture to something more contemporary? A quick refresh like this can transform a tired piece of furniture into something that looks amazing, and will last in your home for many years to come.
Texture
Contemporary homes demand texture throughout the space, creating a cosy, contrasting space. Even if you are pulled more towards the minimal aspects of this interior design style, you'll still need to build texture throughout the space.
This can easily be created in a living room which is naturally a place of cosiness and relaxation. Various layers of texture you can include are rugs, throws and cushions. Then put a focus on the type of material and don't be afraid to contrast. Use leather, fur and matte finishes to create visual interest in the room.
Contemporary Lighting
It's important to consider your lighting when creating a contemporary space. It should flow seamlessly from floor to ceiling. Recessed downlights are a very contemporary lighting choice for a living room, especially when combined with other layers of lighting. Opt for dimmable downlights so you can control the ambience of your room as role changes throughout the day.
To layer the lighting scheme, combine with sculptural wall lights or pendant lights to create that soft, yet contemporary feel.

Use Metal Finishes
Metal accents are warmly welcomed throughout a contemporary interior, but don't just keep it contained to your furniture. Metal interior hardware details such as sockets and switches and cabinetry handles will create a contemporary, yet subtle feel to the room. Try to keep to the same metal finish to avoid chaotic clashing.
Most metal finishes are well suited to a contemporary home and it is much down to personal preference, but the uncomplicated finish of both brushed chrome and polished chrome is perfect for a contemporary style.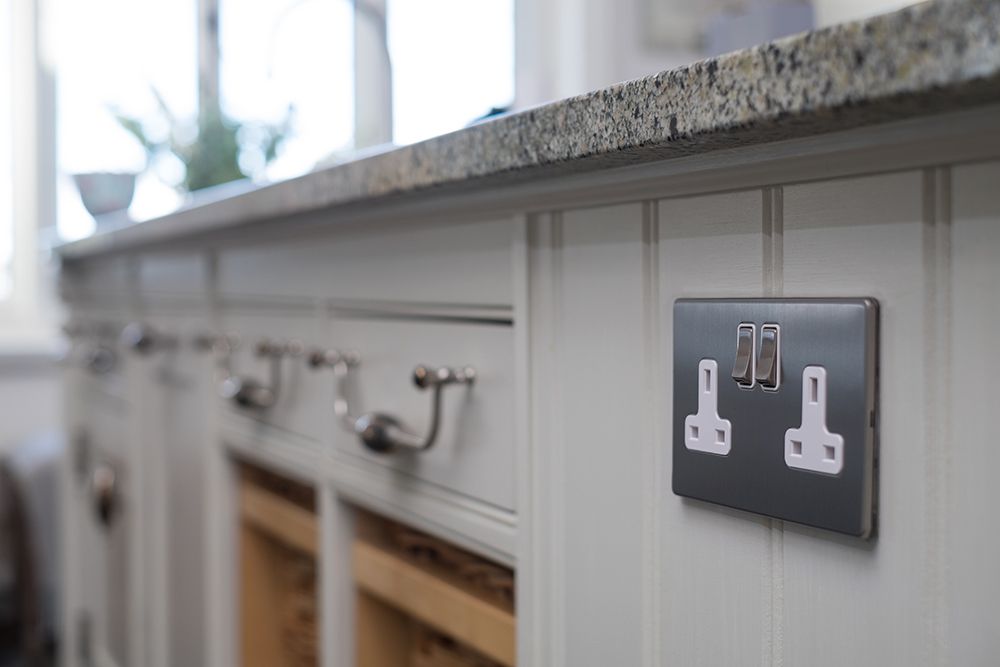 Use of Colour
Muted, neutral tones are favoured throughout this design style due to the uncomplicated nature of them. But don't make the mistake of thinking that bright white is the answer. It's certainly okay and acceptable to use contrasting colours as you may want to create specific focal points for a specific piece of furniture or design feature.
To create that confident contrast, a monochromatic colour scheme works incredibly well in a contemporary space. It allows you to move from one extreme to the next with precision.
There are plenty of ways to breathe a contemporary feel into your home without breaking the bank. Focus on the foundations of colour first before bringing in the other elements.