Black Nickel Vs Black Chrome
Black nickel is one of the most stylish finishes for sockets and switches available. It works perfectly with contemporary style decors and alongside black appliances like TVs, kettles and computer equipment. It has a slightly more complex appearance than regular matt black finish, which makes it look more expensive. The same can also be said for black chrome finish, which tends to look very similar.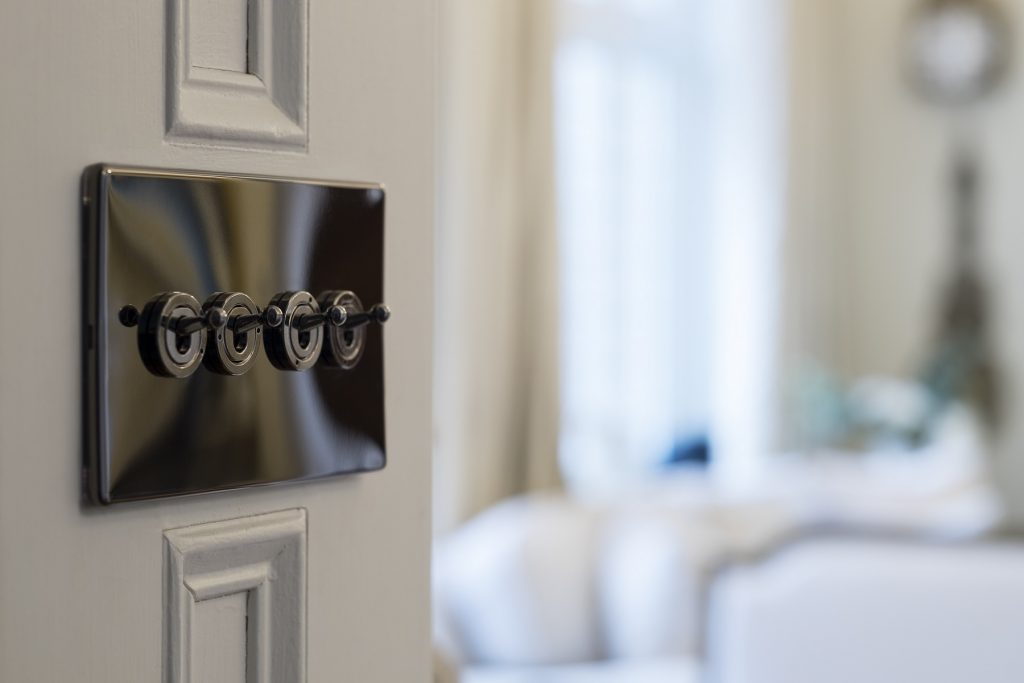 You may have seen black chrome sockets and switches or downlights. This finish is simply chrome with a black tint; and black nickel is nickel with a black tint. Not all black nickel sockets and switches look the same, as some have a shiny, polished appearance, with others carrying a matt or satin finish. The latter often runs the risk of looking cheaper, especially on cheaper electrical fittings.
Whilst black chrome and black nickel look very similar, there are slight differences between chrome and nickel which subtly change the appearances.
What is black chrome?
Chrome plating gives the metal and slightly blue shine, and nickel has more of a whitish appearance. With the black versions of these finishes, however, it is very difficult to tell them apart.

What is black nickel?
Black nickel has a black tint on a nickel finish. A polished nickel finish is mirror-like but with a silvery tint, black nickel gives is darker. Essentially, it is a black, mirror-like finish and can go well with black TVs, kettles and toasters.
Black nickel sockets tend to be far more common than black chrome sockets. As these finishes are so similar, it is common to simply go for the more available black nickel finish. When it comes to downlights, however black chrome downlights are far more common. These, much like socket and switch finishes, are very difficult to distinguish between, as the less common black nickel downlights look very similar.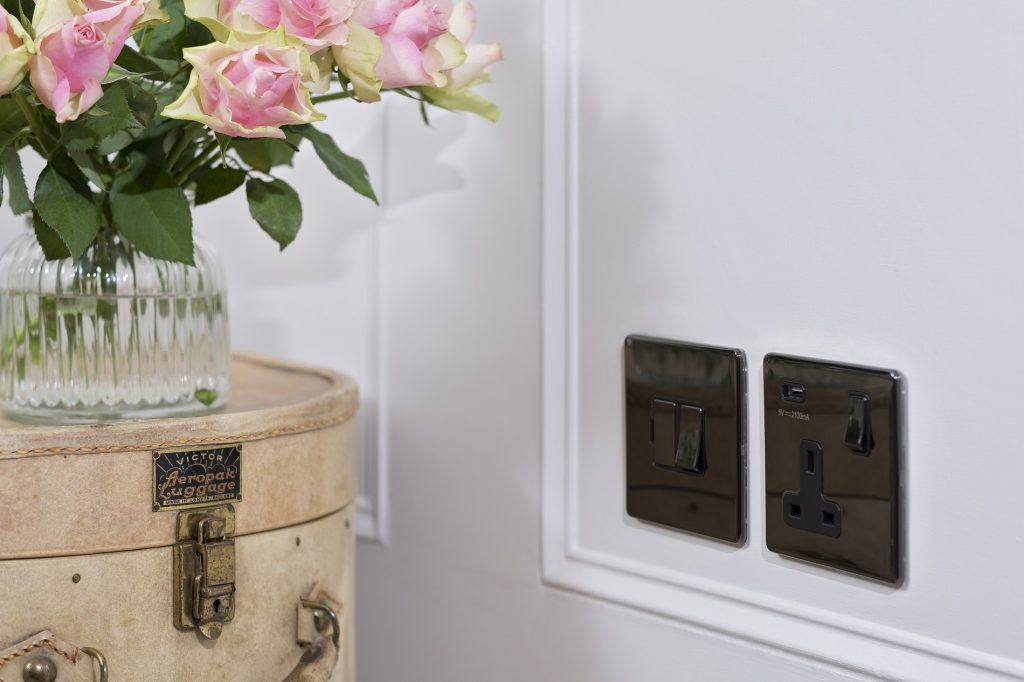 Whether you are looking for black chrome sockets and switches or black nickel sockets and switches, it is important that you choose a collection that is well made, robust and well finished, as black nickel/chrome is a finish that can really suffer if the quality is poor. Cheaper black nickel sockets, even if metal, can have a plastic appearance and can spoil the overall appearance of the room.
Is black nickel shiny or dull?
Black nickel tends to be shiny, unless otherwise stated. Most black nickel finishes will be polished, rather than satin or brushed.

Black nickel vs nickel
Black nickel has a black tint to it, so it goes well alongside other black items like TVs, black kettles and toasters.

Black nickel vs gunmetal
Gunmetal is a variety of bronze. Modern gunmetal tends to be composed of copper, tin, and zinc. Gunmetal is a shade of grey that has a bluish purple tinge. Black nickel however is not grey, but black.

Shop for black nickel sockets & switches or black nickel downlights at Elesi.
Shop for Black Nickel