What is Black Nickel Finish?
Stylish and slick, a Black Nickel finish lends understated sophistication to downlights, sockets and switches.
The smooth metallic or matt black finish and soft shine looks stunning in a contemporary interior and perfectly complements assets such as black furniture items or smaller accessories like kettles and Televisions. Quality Black nickel sockets and switches tend to look aesthetically superior when compared to the more simple matt black plastic or metal electrical outlets. Ensuring high quality when selecting products in this finish is essential, especially when a poorly produced black nickel finish can look 'cheap' and damage the look are you wishing to create. The price of sockets and switches in this finish can vary significantly with lower priced versions stamped with visible screws, lacking in depth of the shine and looking a little 'plastic' as a result. A small increase in cost can secure a luxury, screwless product with sumptuous sheen that exudes quality beyond the price point.
What is black nickel?
Black nickel is an alloys of nickel, zinc and sulphide. It is often plated onto other metals to give a dense black, finish. It can be seen on many different products including door, window and kitchen furniture, hand rails, musical instruments and more. It can either have a matt finish or more of a polished / gloss finish.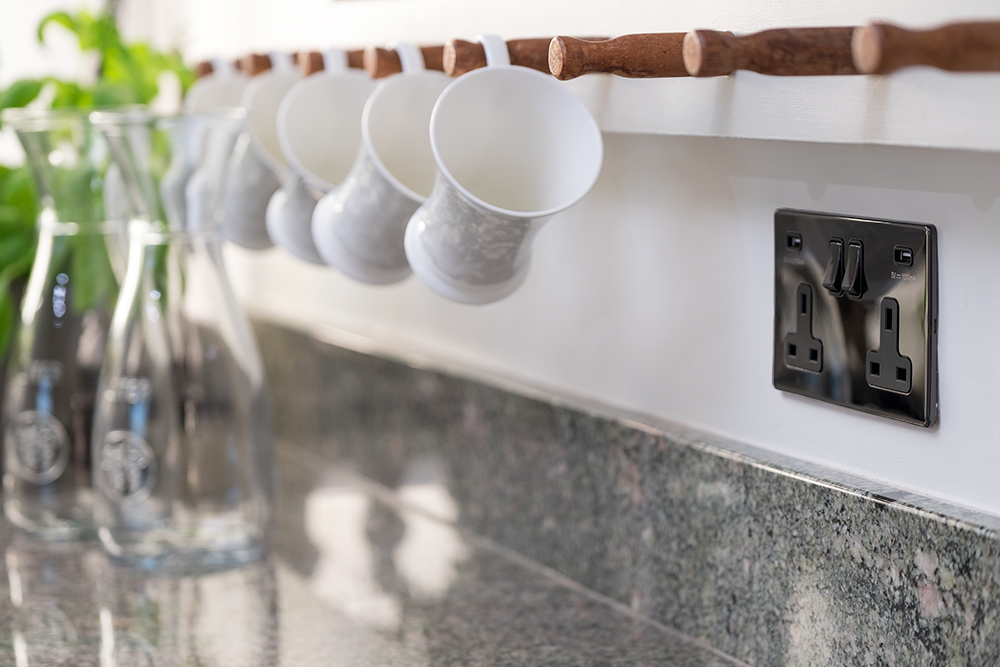 What colours go well with black nickel?
Choosing a socket and switch finish that goes well with the rest of your décor and the colours around the room is important. Black is a very universal colour that can sit beautifully alongside pretty much any other colour, however black nickel has a level of versatile sophistication beyond that of black plastic. When choosing downlights or sockets and switches in this finish, classic wall colours in shades of white or grey give a clean and slick contemporary look, however this finish also looks sensational against vivid colour, such as a deep rich red, hot pink or bold orange. Black Nickel is not solely for contemporary interiors and can be used to great affect with period styles such as art deco, so celebrated for its striking blends of black and white colour.
Choosing black nickel
There are plenty of opportunities to accent your interior with this exquisite finish; black nickel sockets and switches, downlights, door, kitchen and window furniture, as well as taps to name just a few.
FAQs
[related_products is_auto_added="1"]