How To Position Downlights?

When positioning downlights in your home there are many important considerations to take into account. Positioning them effectively will create an efficient and effective light source in your room.
The way downlights are positioned can also change from room to room, which is dependent on how the room is used.
In this blog we explore how to effectively arrange and position downlights. Creating the ideal arrangement which will help you save energy, cut costs and maximise space.
How To Plan The Layout of Downlights?
Downlights are a fantastic choice to light a home as they illuminate a room, enable you to create localised task lighting and they create ambience.
As mentioned, downlights can be used in different ways depending on how you want to light the room.
As a rough idea, allowing one downlight per 1.2m2 will provide an effective level of lighting. To calculate numbers and spacing more accurately, you need to consider what the room is used for and how your fittings and fixtures are positioned.

Focal Points
This will differ from room to room. When planning your light scheme with downlights you need to pay particular attention to what areas of a room need more light.
For example, in a kitchen when deciding your lighting layout, your starting point should be the locations that require additional lighting such as a worktop, hob or breakfast bar. Once you have selected the downlights for these areas requiring additional light, the remaining downlight positions can then be added amongst them.

Ceiling edges
Position downlights too close to a wall and they will create unwanted shadows around the edge of a ceiling. When fitting them, ensure you work in a gap from the ceiling edge of approximately 75cm. In doing so, this will create well distributed light throughout the whole room. Making it a light and airy space.

What Is The Room Used For?
As previously discussed, the intended use of a room should be a primary driving factor when positioning downlights. A rooms function will dictate the position of any focal points, such as over a worktop or by a bathroom mirror.
Unlike traditional light sources, downlights can be located strategically which is tailored to the needs of the room.

How To Position Downlights In A Bathroom?
Lighting in a bathroom can often be a difficult one to tackle due to the fact that they often have small windows, or no natural light source at all.
Fitting the downlights into your bathroom is preferable once your fittings are in place. This will then give you a layout to work around. For example, if you have a mirror, you may want to place one of two downlights in the vicinity so you can see clearly. Shelving and alcove areas can also benefit from downlights to showcase the space.
Installing a dimmer in your bathroom lighting setup puts you in control of your lighting. Creating a tranquil ambience when taking a relaxing bath will transform your bathroom experience.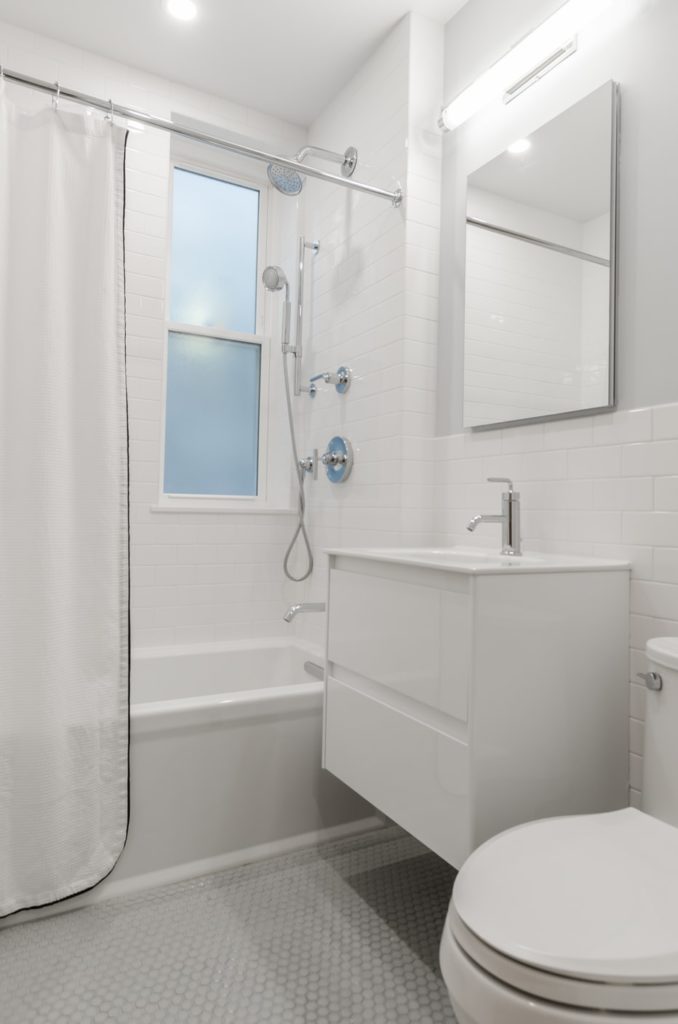 When choosing downlights, you need to pay close attention to downlights and what bathroom zones they serve. The key to downlights in bathroom is safety first!
There are four zones in a bathroom; 0,1, 2 and the outside zone. Each zone dictates how well protected a light fitting will be against moisture, this is backed up by its IP rating.

The four bathroom lighting zones are:
Zone 0
Inside the bath or shower. Lights must be rated at least IP67.

Zone 1
Above the bath or shower to a height of 2.25m from the floor. Lights must be rated to at least IP45 (typically, IP65 is used).

Zone 2
An area extending 60cm beyond the bath, shower and wash basin, up to 2.25m above the floor. Lights must be rated at least IP44.
Outside Zone
This is anywhere outside of the zones mentioned above where no water is likely to be present.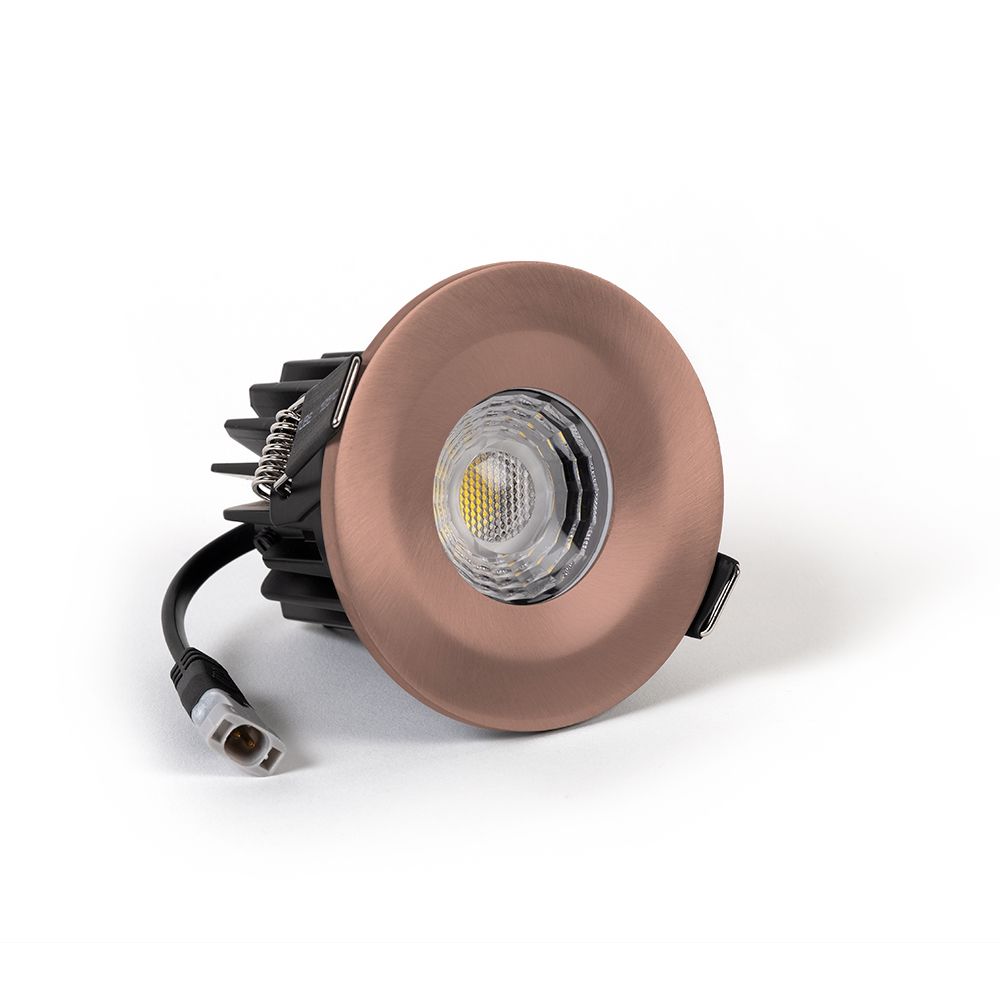 How To Position Downlights In A Kitchen?
Downlights are a contemporary lighting choice for a kitchen, enabling you to create better task lighting than you can with traditional lighting.
A kitchen is the heart of a home and needs to be suitably lit to create a light, airy and social space. The kitchen is a room thats role can often change throughout the day, especially if you have a breakfast bar that is used for a work space too.
Like the bathroom, you need to carefully consider first where your task lighting is going to be needed most. Food preparation is a key area for making sure it's well lit. Bearing in mind, that you don't want to create a shadowy work surface. You want to illuminate the areas where you are prepping and doing stuff, and not the back of your head!
You can then position the rest of your downlights around your key task lighting areas. If you have a breakfast bar or dining table in your kitchen, you might want to group three together over a table to create a light space for those tea and biscuits.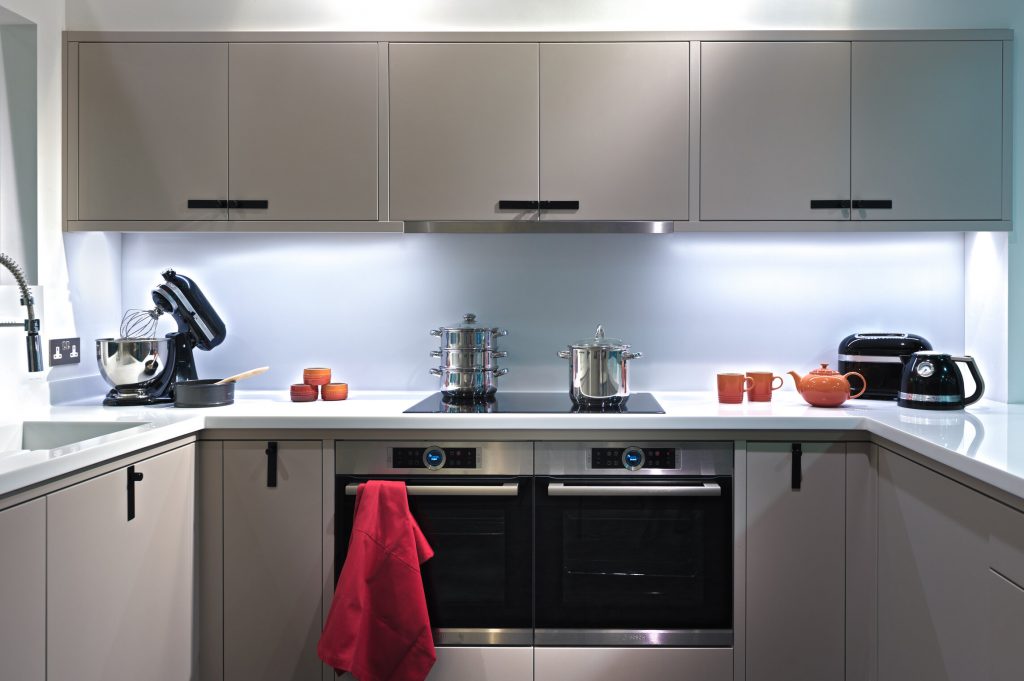 LED downlights are a fantastic choice for lighting a home. Creating a contemporary feel, with effective and efficient lighting throughout your home, no matter what the room.