What Is Task Lighting?
There are many different considerations to make when choosing the lighting scheme for your home. Certain rooms of your home may benefit from swathes of well distributed light throughout. Whilst other rooms may need more targeted levels of light in a certain section, as and when required.
Task lighting is a particular form of lighting that is highly common in many homes. It will greatly benefit you during key tasks where clarity and high precision is required. We explore task lighting and how you can easily incorporate it into your lighting setup.
What Is Task Lighting?
Task lighting is strategically placed lighting in an area where clarity and precision is required to carry out various tasks. When planning the lighting design in a room it is crucial to take this into consideration.
Task lighting is commonly used in areas such as home offices, under cabinet lighting, kitchen lighting. Whilst the tasks and roles of each room might be different, task lighting still works in the same way in aiding you. Providing the additional clarity and precision you need.
Task lighting is normally limited to a certain section rather than a whole room. A kitchen could be an exception to this room where you might carry out food preparation in more than one area.
Kitchen Task Lighting
Downlights are the most commonly used lighting source for task lighting. Positioning them is key as you will ideally want to position downlights directly over or near the areas that are required for tasks. Positioning them directly over the worktops will also help to reduce glare and shadows.
There are a couple other considerations to make when selecting those downlights for your space. This ensures they provide maximum light and efficiency for the tasks at hand.
High CRI - A high CRI or colour rendering index is the measurement of how an artificial light represents the true colours of objects. A high CRI will drastically improve the clarity and precision of tasks, as well as helping to lift your mood. The Soho Lighting High CRI downlights are one of few high CRI downlight suppliers. They're perfect for any room in the house as they provide swathes of light.
Tiltable downlights - For those more discrete areas where finely focused lighting is required, tiltable downlights enable you to adjust the tilt to suit your requirements. This provides highly targeted lighting to enable you to carry out your tasks effectively.
Alternatively, under cabinet lighting such as downlights or strip lighting is a popular choice for those hard to reach areas. Strip lighting like this could also be used for mood lighting.
Home Office Task Lighting
Task lighting is easier to create in a home office, where there is usually a desk where the majority of your work is carried out. The most popular form of task lighting in a home office is a desk lamp. Unlike kitchens where you have little choice, there are so many desk lamps to choose from that you can incorporate them into home decor.
Desk lamps work well because they can be moved, often tilted and adjusted as the extra level of light is required. It should be considered as a secondary source of light as you still need to ensure the rest of the home office is suitably lit. Downlights are a great option for a home office as they can wash the room in light. Try opting for downlights with a high CRI to provide optimum clarity.
Bathroom Task Lighting
It can be easy to overlook task lighting as a priority when deciding on your lighting. Whilst downlights are a great choice for a bathroom, they aren't enough when it comes to some of the daily tasks that are carried out in the bathroom.
A direct task light above the mirror in the bathroom will make shaving or doing your makeup so much easier. A pair of bathroom wall lights on either side offers both practicality and style to the finished result.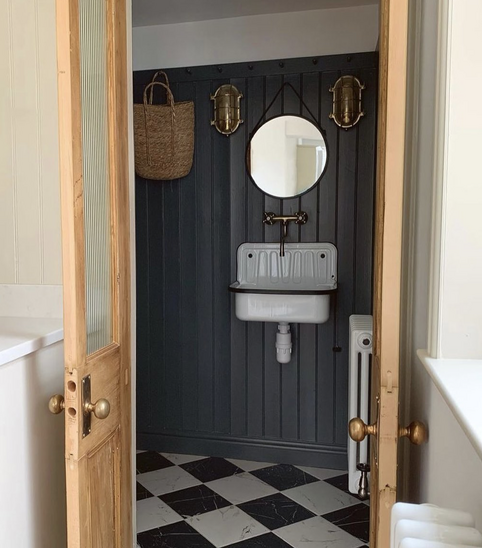 When planning your room, always consider when and if task lighting is required. It's much easier to get the lighting to work cohesively than having to go back over your work at a later stage.
[related_products is_auto_added="1"]