What is the best lighting for a dining room?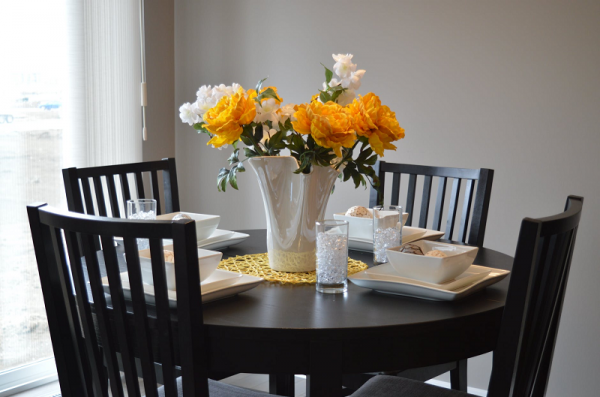 Our customers often ask for lighting advice on their dining room, such as what sort of light bulbs or lighting would suit their dining rooms, what colour temperate is correct, how bright should the lighting be? To answer such questions, it is important to consider the following:
How will the room be used?
What look and feel do you want to create in the room?
Kitchens generally need clear, high colour temperature lighting so you can see what you are doing, and living rooms suit a lower colour temperature for a more relaxing feel, dining rooms sit somewhere in the middle, as it's good to see the colour of the food, but too bright, and the light can take away the atmosphere.
Dining rooms are a gathering place for eating and socialising, so the lighting needs to be warm and comforting and create an ambience.
When planning the layout of your dining room and the different styles of lighting, you may want to choose these three options:
Task lighting - For task lighting, you'll need a higher colour temperature (for example 4100k). This will provide a bright light to make it easier to see what you are doing. If, however you don't use your dining room for completing tasks, you may not need task lighting.
Accent lighting - This is lighting that focuses on a particular area or object. If you have art on your walls or interesting architectural detail, you may want to use accent lighting, but it is, of course not for every dining room.
Ambient lighting - This is the main, most important way of lighting you'll need in your dining room. This sets the tone and ambience of the room. It should provide enough light for people to see what they are doing and eating, but not so much that it feels too bright. Whilst a 4100K bulb may be too bright, you could try something towards 3000K, or if you want to set a truly vintage style, then a 1800k decorative bulb could be a good idea.
You can also consider using a 3000k bulb in your main ceiling lighting fixture, and a 1800K decorative bulb in a floor lamp, to give you a mixture of light sources and choices. Generally it is best to have light from multiple sources to avoid creating glare and shadows. Dimmer switches can also be a great addition to any dining room as you can choose the brightness to suit or set the mood.
If your dining room is your space for entertaining guests, consider using decorative bulbs and light fixtures to create a centrepiece.
How big should a light be over a dining room table?
There are a couple of different rules that you can follow to make sure you have a good pendant light size for your dining room. If you've already chosen your table, then it's a good idea to choose a light that is one half to three quarters the width of the table.
If you haven't chosen a table yet, you can add the length and width of your room in feet, and switch to inches for the light. So if you have an 8' x 10' room, then an 18" pendant would suit.