Antique Brass vs Polished Brass
Brass has for a long time been a popular finish for sockets, switches, lighting, handles and other features around the home. With a timeless appearance, brass can complement multiple styles of decor, although it perhaps looks most at home in a traditional or classic interior. There are, however multiple types of brass finish including brushed brass, antique brass, burnished brass and polished brass.
In this article we look at the differences between polished brass and antique brass and which sort of styles of design suit each of them the most.
Polished Brass Sockets & Switches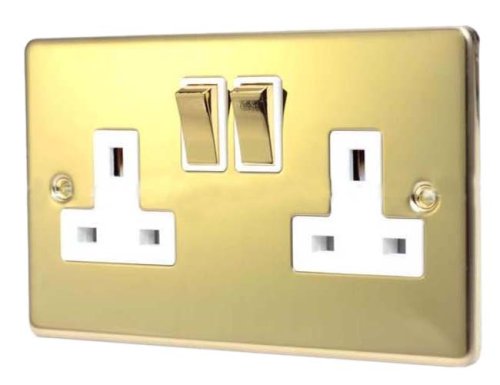 Polished brass sockets and switches have a brash finish that has been polished and therefore have a mirror-like reflective surface, whilst still carrying the almost golden brass colour. This finish tends to be bright and shiny as well as very reflective. They can therefore look a lot more glistening and perhaps more eye catching than a satin or brushed brass (which has a more mat or brushed finished) but the downside is that they can show fingerprints or blemishes a lot more than other brass finishes.
Polished brass is a lot more bright and flashy than antique, brushed and satin brass, but can look slightly less warm, however it is timeless and has been popular for a long time. It is best suited to traditional rooms, but has a neutral style that could work well in more modern homes too.
Antique Brass Sockets & Switches

Antique brass or aged brass is more of a statement finish than polished brass. This beautiful finish is treated to appear aged and typically has a rich brown town with slightly golden undertones. With a warm finish, it doesn't shine or reflect anywhere near as much as polished brass, but therefore hides watermarks and blemishes so much better.
This finish is well suited to vintage, historical or classic style rooms, but is so beautiful that is can look great as a classic twist in a more modern decor. Cheaper sockets and switches can let down antique brass, as it really needs to look robust and strong in order to look the part, so be sure to go for higher quality antique brass sockets and switches.
This finish may not be quite as universal as polished brass, but when the style of decor calls for something more classic and eye-catching, antique brass is likely to fit the role.
Laquered Brass Vs Unlacquered Brass
When comparing these two finishes, it is very much down to personal preference and whether you are happy with maintaining the products finish.
Lacquered brass has a finish or surface coating that prevents the brass from ageing or tarnishing over time. This is a huge benefit because the finish can be enjoyed throughout the lifetime of its use. It will always retain its beautiful, rich colouring and will not fade or distort through weather or time. If you're looking for a low maintenance light or socket and switches, then this is a favourable option.
Whereas unlaquered brass does not have a surface coating for protection so it can age and tarnish overtime, however, its original finish can easily be restored by polishing it.
Burnished Brass Vs Antique Brass
The finish of antique brass is one that is appears aged and has a typically rich brown tone with golden undertones. This executive finish is not flashy, the subtleness of the finish makes it well suited to the decor of most homes, but is mostly suited to vintage and period style properties.
Burnished brass combines the aesthetics of bright polished brass with antique and weathered brass. Indeed, it's a finish that has the best of both worlds. Combining the gorgeous bright gold tones from polished brass and blending with the brown tones from antique or aged brass. Unlike polished brass, the golden colour is not shiny, it could continue to patina depending on the burnishing technique that is used.
Take a look at our full range of sockets and switches to find your perfect finish.