5 Considerations When Choosing Sockets and Switches
Despite not taking up a huge amount of space, sockets and switches can be seen throughout any property, so often play a big part in the appearance, as well as being vital to the functionality. Often overlooked as an afterthought, the choice of which sockets and switches to purchase is actually a big decision.
In this article, we look at five key considerations to take into account when choosing the right sockets and switches for your property.

Setting and Appearance
If you have a vintage style property with high ceilings, expensive pieces or art on the walls and antique furniture, the whole appearance of the room will be ruined if you fit cheap white plastic sockets and switches. And if you have a contemporary style room, antique style electrical fittings could equally look out of place.
Think about the style of décor you have, before thinking about the finish. Some common finishes like brushed chrome and polished chrome can fit in well with both contemporary or traditional styles. Black nickel tends to suit modern rooms, especially if you have black furniture or electronics.
Antique brass and antique bronze fittings suit period properties, as does brushed and polished brass, although polished is fairly versatile in the way it can fit in modern new builds too. Many modern new builds with a neutral décor tend to be fitted with chrome or white fittings, which don't tend to make such a statement as fittings such as brass and black nickel, but are far more neutral.
Industrial style rooms tend to suit antique brass or even copper fittings, but this depends a lot on the sort of colours and finishes used elsewhere in the room.
When choosing a style for your sockets and switches, also consider whether certain trends are likely to pass. There are some types of switch that are currently popular, but may look dated in year. Generally, if you want a regular switch style, you can't go wrong with the timeless rocker, dimmer or regular toggle. These have been popular for a long time, and still show no signs of looking old.
Plate type
The type of plate you choose can have a subtle impact on the overall look of the room. Screwed plates tend to look a little cheaper, however they may fit in well with an ultra urban / industrial style of décor. Screwless finishes tend to look more classy though.
Flat plates tend to look more slick than raised plates, however it's not always possible to install them, and they do often cost more than raised plates.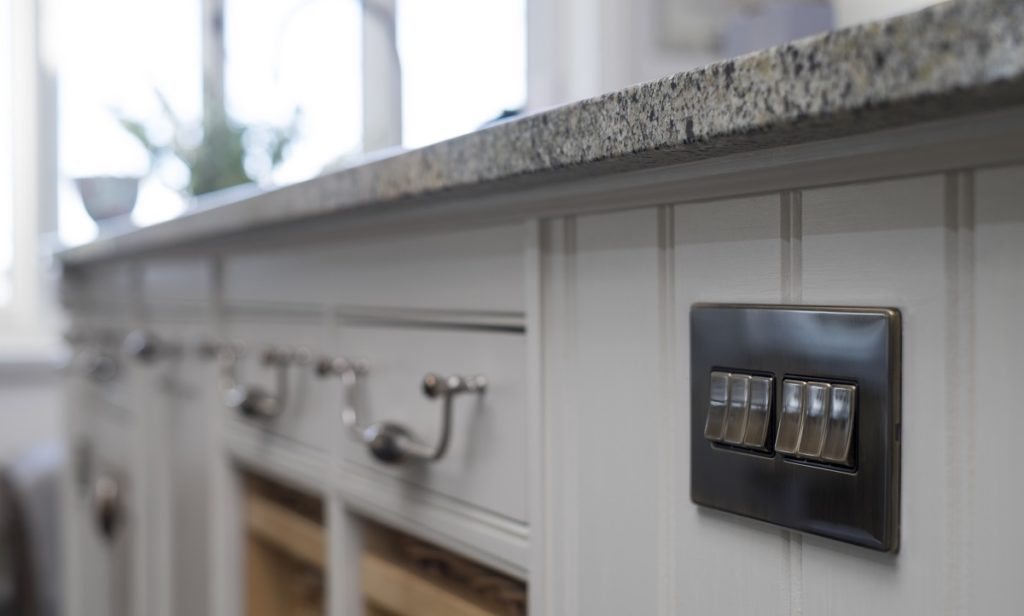 Switch Type
This is where you have to take into account both appearance and functionality. There are plenty of options on the market, with even more becoming available every so often. Some of the common options include toggle, rocker, dimmer and touch switches.
Dimmer switches are great for versatility, but not always needed. These do often cost more than rocker switches, so you may choose to use them only where you really need to adapt the lighting levels to the situation.
Toggle switches are perfect for period properties and really elevate the style of the room to the next level, giving it a feeling of class. Again they tend to cost more than rocker switches, and may not suit more contemporary designs.
Rocker switches are the most common light switches. These are the "trusted model", the switches that tend to be the default choice, but they don't offer the same level of versatility as dimmer switches.
Touch switches are the more futuristic option, and run the risk of looking out of place in period properties or rooms. They tend to be suited to more contemporary styles of room, but also come with a higher price, so may not be the best choice for the project.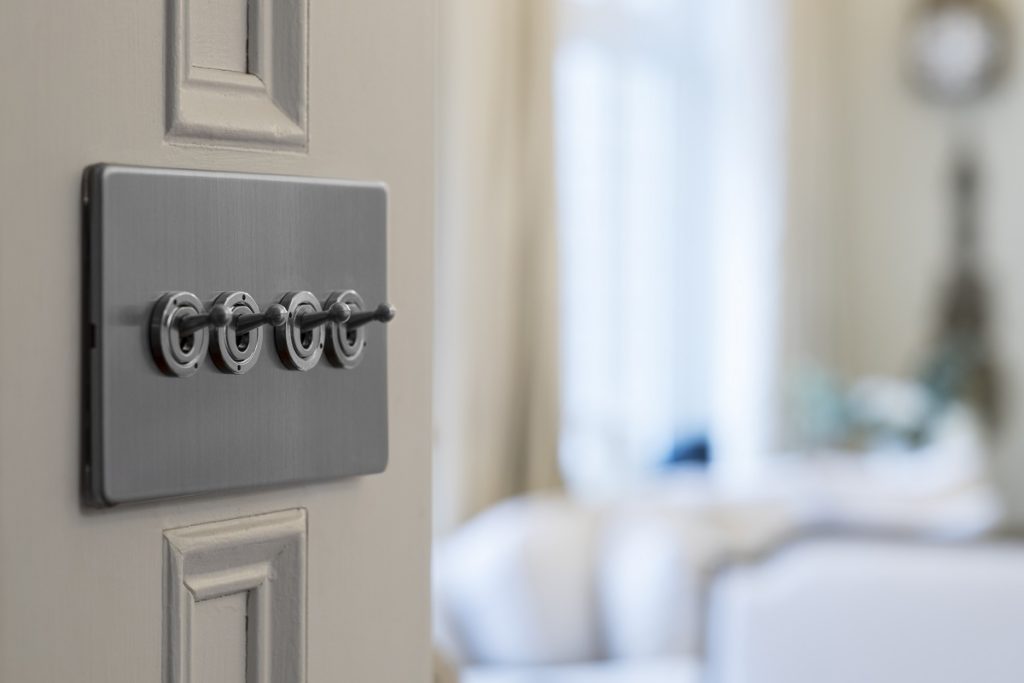 Quality
Much like in other areas of life, you really do get what you pay for. Many people go for cheaper options, but often neglect the overall appearance, as well as the functionality.
Look for products with higher guarantees, as you really want your sockets and switches to last for a long time. Whilst it's not a huge job to replace them, it's not quite as simple as re-painting a wall or moving a table, so going for electrical fittings that could break in a year or two may come back to bite you. Aim for at least 5 years.
Depth and Breadth of Range
Whilst there are common finishes that can look the same, even if bought from two different suppliers, many styles of sockets and switches don't quite look exactly like each other, so be sure to choose a range that has every electrical fitting that you need. You can often use data plates and euro modules to make up the remaining few, but these tend not to look as good as regular sockets and switches, so it's best not to over-rely on them.